We here at Sexy Time Toy Zone have had a great time mooching about the sensual pages of Adam and Eve, and we're sure you will too. The team at Adam and Eve have been servicing customers for over 40 years, first opening their doors on 1971 and going from strength to strength ever since. Their success is due to the fact that they stock the best possible range of toys, lingerie and movies for men and women of any sexual orientation; they truly are catering to every wanton need and desire.
So what does Adam and Eve have to offer;
Bondage section,

Lingerie Section,

Adult Movie Section,

Accessories,

Sale/Clearance section,

100% dedication to privacy,

Risk Free Returns,

24/7 customer services,

Sex Guide and Advice,

Freebies,

Multiple Payment options.
So let's see what there is on offer at Adam and Eve in a bit more detail shall we folks. Adam and Eve has catered for everything where the sex toy industry is concerned and we here at Sexy Time Toy Zone have reviewed a lot of sites, but this one really hits the mark for us.
The Toys
To begin with Adam and Eve have compiled a mighty list of sex toys for all tastes and experience levels, with variations from the slip on finger vibe for solo play; to dual stimulators that can be used in any sexy siesta you may have planned with your partner.
You have a very handy search tool down the left hand side of the screen, allowing you to search via brand, price, features and more. But we like the old fashioned way of scrolling from page to page and getting a true feel for what is available. So that's what we did and boy are we glad, as we don't think we would have come across these little beauties if we had done a generic search.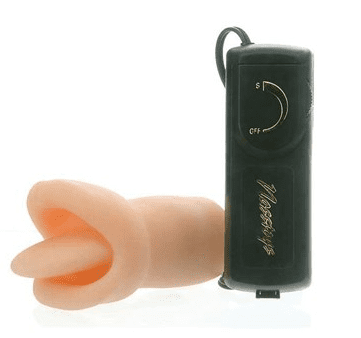 The first toy we found that we know you solo play gals and guys will love, is the Lovebotz Auto Banger Sex Machine. Now this is at the higher end of some people's price ranges, but for what you are getting it really is a lot of bang for your bucks (excuse the Americanism but it had to be done). With three dildo attachments for your ultimate solo pleasure, it's priced at $399.95 (approx. £327 GBP).
Our second pick is the Velvet Touch Clit Licker, what an absolutely amazing toy.  If you love Oral sex but your partner gets lockjaw, then let this toy do all the work for you. Suitable for solo or couples play the Clit Licker boasts soft feel ultra-flesh material shaped to form a parted mouth, with an extended tongue to tease and caress your most sensitive parts. At only $27.95 (approx. £22.85 GBP) this toy will have you and your partner crying out for more.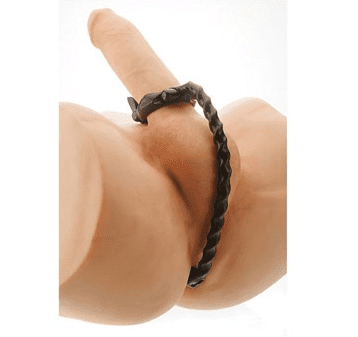 Let's not forget the guys here or there will be uproar in the office. We found this amazing treat for men going by the name of A&E Triple Threat Penis Ring……we are going to let the name sink in for just a few seconds……that's right, triple threat; before you ask, no it's not as painful as it sounds. It boasts a penis ring with bunny ears so you get the benefit and your partner does too, with some excellent clitoral stimulation. It also boasts an anal stimulator and a bullet vibe at the tip of the anal stimulator; triple threat doesn't seem so bad now does it. This amazing sex toy is going to keep you going all night, because the penis ring is attached to the anal stimulator/bullet vibe plug which will enhance your sexual ability and stamina; all this for just $24.95 (approx. £20.70 GBP).
Bit of Bondage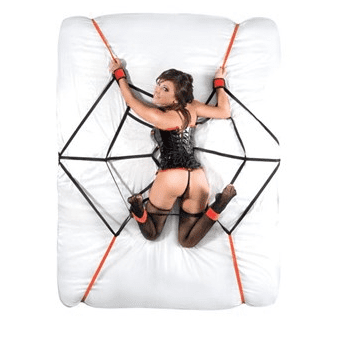 So once again we head across the threshold of pleasure and venture into the dark, where pleasure meets pain; and the team at Adam and Eve have not failed us here either. With everything you could need from restraints to handcuffs, leather whips to feathered ticklers there is something for every level and all of the highest quality and standards.
Our top pick has to be the Fetish Fantasy Web Restraint, 'come into my parlour said the spider to the fly' and with this web restraint you can capture your prey to play with at your leisure. With a web shaped design and four neoprene cuffs to get your lover tangled in your own web of desire, this is sure to be a hit. It comes with a free satin mask to really give your captive that real feel of being hunted and is only $79.95 (approx. £65.37 GBP).
Sexy Lingerie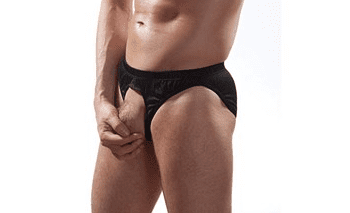 The lingerie section on Adam and Eve has some amazing items that you can use to tempt and tease your way into the pants (or panties) of your partner. With interesting takes on the usual dress up outfits including naughty maid and police babe, the dress up section of lingerie has some jaw dropping outfits. Our favourite of the entire range has to be the Pouchless Brief for men, which does exactly what it says on the tin. It still has a full brief back, but the front the section that would normally hide the crown jewels has been removed, so you guys can stand proud and shake it all about. It's only $17.95 (approx. £14.68 GBP) and is available in three fab colours.  Who said sexy lingerie is just for the girls? Not us, here at Sexy Time Toy Zone we believe in equality for all things sexy.
Movie Time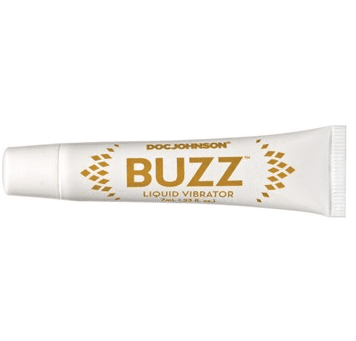 Adam and Eve have put together a mammoth movie vault of all things sexy, with a choice of purchasing the DVD/online movie or watching on demand; whatever takes your fancy at the time.  With genres ranging from parodies including Grease, romance, to down and dirty hard core; there is a movie here for every taste. The hardest decision you will have to make, is to pick one to watch.
Now the best thing you can have when watching movies is a few extras and that's where the lubes and oils comes in. What better way to make the most of your movie experience than with the Liquid Vibrator gel. With just a drop or two on your most sensitive areas, you will feel them buzz into life as if you are holding a vibrator to them. With a long lasting effect, you can pop this gel on and keep on rubbing away for as long as your foreplay lasts, or even for the duration of your rented movie; feeling the buzz the whole time. This incredible gel is a mere $19.95 (approx. £16.31 GBP) and will last you a long time!
Clearance Section
Now all our regular readers will know just how much we love a sale or generally anything we can get for nothing. With items beginning from $4.95 (£4.05 GBP approx.) and rising to $199 (£162.71 GBP approx.) check out the Adam and Eve sale section where you're sure to grab a bargain!
On top of the amazing sale items the team at Adam and Eve also have quite a few freebies throughout their site, for example in the lingerie section they offer a free thong with every purchase. They also give you a free gift with every purchase of $17 or more and if you spend $39 or more, you'll receive a free Couples Coming together kit which includes 5 amazing items for you to have fun with. There is so much more, but as the offers are prone to change you need to head over and peruse the inner sanctum of the site for yourselves; where's all the fun if we lay it all out for you.
Blog Section
What you may notice when visiting the site and hovering over the header for each section, is that in the drop down menu there are other links leading you to guides and blogs; with each header having its own relevant guides. For example in vibrators you have the vibrators 101 – beginners guide, in for him you have masturbator and love doll guides. But if you scroll down to the bottom of the page you will find the link to the Adam and Eve Guide to sex, with even more 'how to' guides including threesomes and group sex guide; or the guide to having sex in different places. If that's not enough scroll down a little further and you will find the link to Dr Kat, a qualified sex therapist (amongst other things) who will give you the dirt on getting dirty; as well as helping in other areas. Trust us when we say the team at Adam and Eve really look after their customers.
Privacy, Packaging and Payments
Adam and Eve think very highly of your privacy and as such follow a strict packaging rule, ensuring that every package is placed in non-descript envelopes or boxes with no identifying marks of what is inside. Shipping charges are applicable although they do offer a free shipping option if you spend over $59 (so easy to do). Returns are accepted with a 100% satisfaction guarantee, meaning that you can return any item (excluding movies) for any reason within the first 90 days and between yourself and the team, a solution will be found. Whether it's a replacement product, refund or an exchange. Please always refer to the website terms and conditions before making a returns claim.
Payments can be made via an array of options, including PayPal and Amazon payments as well as the usual major credit and debit cards.
What does Sexy Time Toy Zone Think?
Well that was a mighty review right there wasn't it, such a lot to get through we feel we have barely scratched the surface of Adam and Eve. So much lurks underneath waiting to drag us down into the dark dirty night and boy we can't wait to get some more time to play.
Teaming grade A customer service with the highest quality products, has served Adam and Eve well and will continue to do so. We love the products and we are sure you will too and please remember to give us a message if you purchase from them, we always love to hear from you guys too.
Promotions and offers subject to change, please ensure you check out the terms and conditions before you order.