Who is ready to discover the next craze in sexual pleasure, which you will clamour to add to your box of naughty treats? We here at Sexy Time Toy Zone have been on the lookout for some new and innovative sex toys to share with you and we think you are going to love what we have in store. Many sex toy developers have been known to replicate the usual sex toys we all know and love. Many of us have vibrators and cock rings in our draws, but we're looking for something new to try. The team at Satisfyer have developed not one, not two but three versions of their iconic sex toy for all of you to experience. In this review we are taking a look at the Satisfyer Multifun 3, which we think will blow your mind.
How does the Satisfyer Multifun 3 work?
Upon first laying eyes on the Satisfyer Multifun 3 we felt it looked a little like a veg peeler, but without the sharp razor edge. But when we fired this bad boy up the peeling of vegetables was the last thing on our minds we can tell you. This baby has moveable parts, adjustable settings, and multiple motors, which all work in conjunction to deliver a power packed pleasure you won't to forget in a hurry.
There are a multitude of functions included with the Satisfyer Multifun 3, meaning this is the perfect any sex toy starter kit. It works amazingly for solo play, couples fun – whether you are male or female and literally will set any of your sexy bits on fire. Don't just take our word for it though read on below to see some of our favourite things about this ingenious sex toy.
The Satisfyer Multifun 3 has a whopping 32 different uses, now we aren't going to list them all, but we will name the main ones.
Clitoral stimulator,

G-spot vibrator,

Prostrate vibrator,

Stroker massage,

Adapted as a cock ring,

A strapless strap on.
When we say adapt as a cock ring and a strapless strap on, we know this can be confusing. What it means however is that the top of the Satisfyer Multifun 3 is built so that it will hug the shaft of the penis. Your partner can wear the toy around his shaft whilst he uses the rest of the vibe to rock your world. This is just a very short list of the uses this sex toy can provide, but we won't ruin the fun of listing the rest for you.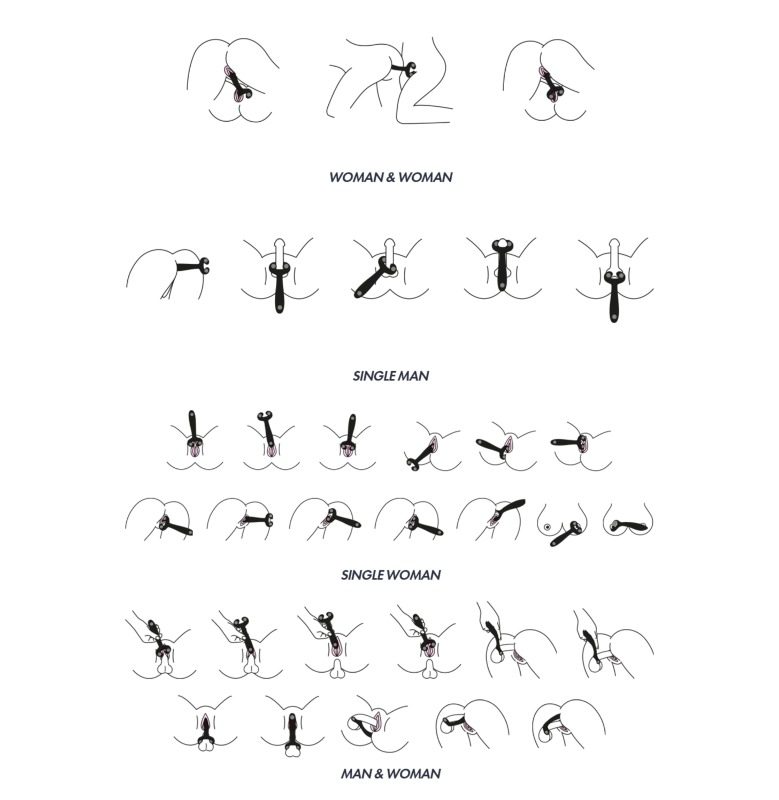 The Satisfyer Multifun 3 has three powerful motors, one in the shaft of the vibe and two in the curved head. It comes with 10 different vibration modes which also alternate between speeds and patterns too, but it doesn't stop there. The vibration in the shaft and in each of the arms on the head are all controlled separately, meaning you have up to 100 variations to try out!  If that wasn't enough the head rotates up to 180 degrees and it is fully waterproof meaning you can add it to your bath time play too.
The only downside to this insane toy is that its battery time only lasts up to an hour! It does come with a usb charger meaning you can plug it in and charge it up, but if you want the full 60 minutes play time it needs to charge for three hours.
You can find the Satisfyer Multifun 3 in most online sex toy retailers, but we found it at Adam & Eve for just £40.33 and we think that is a steal considering what you are getting.
What we think of the Satisfyer Multifun 3
We love all things sex toys and have tried many vibrators and multi-use sex toy in our time. But none have come close to being as multi-functional and enjoyable as the Satisfyer Multifun 3. It is attracting very positive reviews from everyone who has tried it, whether they are single or a couple and we can see what the attraction is. Our only negative to take away from our research was the short battery life, because let's face it with this many play options one hour just isn't enough. Maybe there will be a Satisfyer Multifun 4 in the running with a battery that can go all night? We can but hope, but until then we know you are going to love this pleasure packed sex toy as much as we do.