Unfortunately there is no promotional scheme available through Manshop to assist us in advertising the site. As such we have provided you with an alternative called Lovehoney, which is an impressive adult site offering an incredible range to suit all.
Sometimes it feels that the sex toy industry can be a little female orientated, with such a huge choice of lingerie and toys for women; not that you guys don't mind looking! Sexy Time Toy Zone was pleased to discover a site designed specifically for sex toys for men, appropriately called Manshop.com. So let's delve into the world of cock rings, Fleshlights and penis extensions!
So, what can Manshop provide?
Huge selection of male and female sex toys,
Clothing and Lingerie,
Games, gifts and books,
Reviews and blogs,
Wishlist and loyalty rewards,
Discreet shipping and return,
Various payment methods.
Website Layout
When you first hit the homepage of Manshop you are immediately drawn to the masculine design, with a cheeky masturbating logo and bold blue colours. What we found interesting is that there are very few images of women on the site, which is something you would expect to entice male customers.
Now although this is a predominately male sex toy site, Manshop have kindly let the women join in and added a few choices for us too. If you scroll down you will see 'toys she'll love', with categories including vibrators, lingerie, stimulation balls and dildos.
The site is split into tabs for each male sex toy area, including sleeves, lubes, pumps and prostate. So straight away you can go to the relevant tab and know you will find what you want, without having to search endlessly. You also have the choice of searching through all products at once, but as there are almost 4,000 items it's ok to cheat and head straight to the section you want to buy from.
Male Sex Toys
Where better to begin than with the sleeves and if you are a totally new player to the solo stroke game, then try your hand at this little package. The Zero Tolerance Full Release Stroker Combo is everything you need for some alone time. You get a full release stroker, a DVD and lubricant all in one.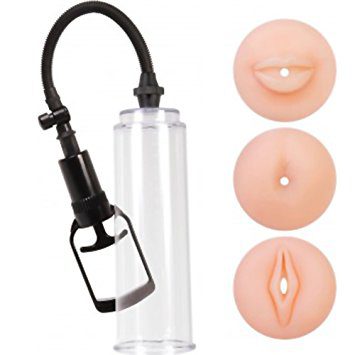 If pumps are more your thing then how about this little beauty, the Triple Play Pleasure Pump Pro. This couples male masturbators and penis pumps in all the right ways, with three entry choices that can be switched depending on your mood. So you can opt for anal, oral or vaginal, and the pump is made from real feel material for extra comfort.
When it comes to the prostate it's a taboo subject for most men, but there is no real need for it to be.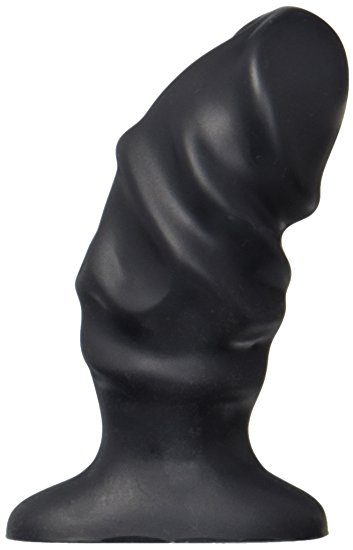 The male g spot is right there and is often overlooked, but with the right toys and a bit of practice you will be hitting that sweet spot in no time.
Now, we had to share this next item, the Platinum Premium Silicone Raging Plug is a butt plug when all is said and done. This one is perfect for beginners and at just 4" will give just the right amount of stimulation needed to get those juices flowing. Featuring a curved shaft, textured veins and smooth matte finish, it's perfect for those new to anal play.
While we are at the butt plugs we couldn't help but feature this next item, the Firefly Glass glow in the dark tapered plug.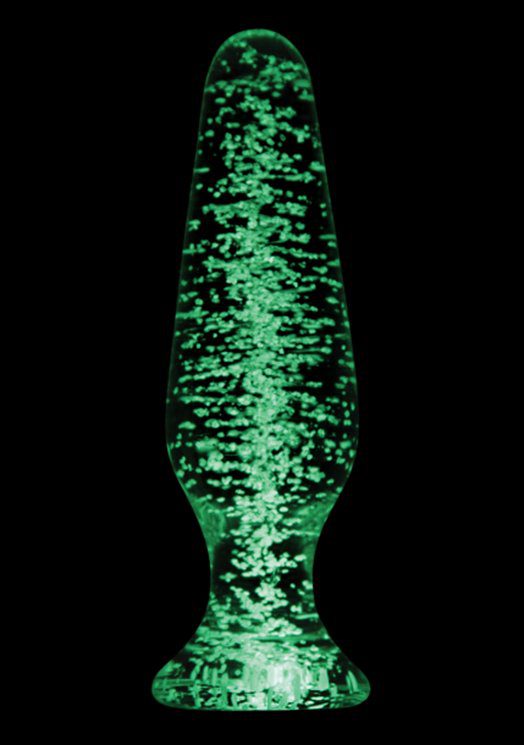 It is absolutely stunning in design, with its beautiful green firefly effect that shimmers away in the dark. Made from borosilicate glass and shaped for endless hours of fun. Once play time is over, clean it up and pop it on your night stand for a stunning night light too! A handy little sex toy extra function.
Underwear and Fantasy Wear
Don't forget to dress (or undress) for the occasion, with a wide choice of lingerie, costumes and fantasy wear available at Manshop.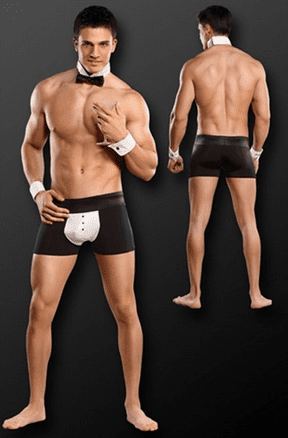 So, guys why not try out this very sexy Butler Costume to win over your partner. Greet them at the door after a long hard day and you will be in for a long hard night. The set includes some extremely revealing shorts, cuffs and a collar of course.
Sexy Games
If your night is in need of a little inspiration why not try out one of the many games available at Manshop, like Sex Marks the Spot for instance. This is a great way to get the engines running with forfeit cards, sex cards and a way to explore your partner in ways you may not have done so before.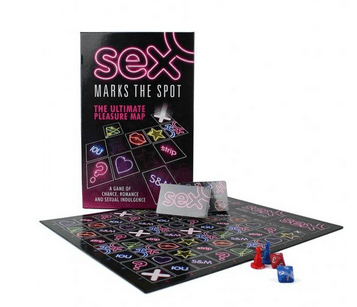 There are a lot of other gifts and games on Manshop including chocolate body paint sets and card games. When people think about sex toys and buying items from a site, games isn't necessarily the first thing that will jump to mind. But they can prolong the fun over the night and help give you suggestions on foreplay, so we would definitely recommend having a look.
Manshop Blog
Over in the blogging section you will find great articles on things such as shock therapy, mistakes to avoid in bed and so much more. So, if you are the type that likes to research things to try and ways to please your partner, then you are in the right place. There are also toy reviews as well so if you are unsure what to purchase, then read on and see what others think before sending it to your cart.
Wishlist
Make sure you get yourself registered with the Manshop newsletter when you order, as once you have a personal account you can open up the wishlist facility which can be shared with others.
Loyalty Scheme
In addition to this you also open up the loyalty programme as well. Unlike normal loyalty schemes where you collect points, there are different offers available at each new level starting on your second order and leading right up to your 1,000th order. You can enjoy anything from buy one get one free to a permanent 15% discount (from the 1,000th order onwards); it certainly pays to be a member of Manshop.
Shipping, Delivery and Returns
When it comes to shipping any products from Manshop, your discretion is guaranteed. The items will be packaged in plain paper so no one can see the contents inside and the sender's ID will be shown as Eline LP. Check out the FAQ section at the bottom of the page for more detail and any additional costs. But if you have any questions then don't hesitate to contact a member of the Manshop team via the customer service button, also at the bottom of the page.
Returns are accepted if the item is faulty or defective and these must be returned within 60 days of purchase, to receive an exchange or store credit. Make sure you check the terms on the site to be sure what is covered by the returns process and what is not.
Payments can be made via most credit or debit cards including American Express. Your discretion is covered here too as payments will show up on your statement as Game Link.
What does Sexy Time Toy Zone think?
It is high time the guys had a dedicated site to go to for their toys and undies, rather than having to go through a barrage of female items to get to what they want. The fact that it also caters for female sex toys as well as the male ones is a definite plus point. Not only that but each product has a short but sweet write up perfectly aimed towards the men, as it's a no nonsense review that doesn't take up much time. We love the blogs and reviews too, because if there's one thing this world needs more its articles on sex and how to guides. Overall a brilliant site and a great idea to design a masculine, male-friendly place. We salute you Manshop and all that you stand for.
Products and other aspects of the site are subject to change, please ensure you check out the terms and conditions before you order.