Sexy Time Toy Zone are always on the prowl for a new adult toys site, so get ready to read our no holds barred review on the fantastic Babeland.
Babeland was the creation of two friends, who opened their first store in 1993 to provide female friendly sex shops. Their forward thinking approach and the desire to encourage people to explore their sexuality, has to led to further stores opening and of course a fun and informative website.
What does Babeland offer:
Sex Info including how to, tips, guides and a helpful glossary

Books and dvds

Gifts and Kits

International shipping and returns available

Multiple payment options

Social media presence
Let's see what there is to offer in a bit more detail, because this site has catered for every taste and whim so we know you'll be satisfied.
Variety of Sex Toys
With an amazing array of sex toys for all tastes and experience levels, you could spend hours trawling through the many pages on this site. To make the whole process easier you can hover over the categories, which then drill down into more specific areas.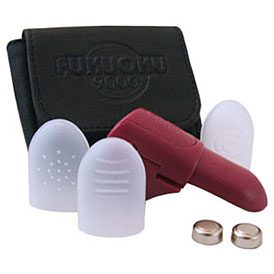 We of course want to make sure we've looked over every nook and cranny, so we checked out all the links and wow you have plenty to choose from. During our search of vibrators we came across the Fukuoku 9000, which is a very interesting take on the finger vibrator.
This is not just an attachment that goes onto your finger and vibrates, because it has three silicone sleeves that slide over the tip for extra sensations. These are caused by ribs, nubs and circular lines in the sleeve, each one designed to create a different feeling. The Fukuoku 9000 is a mere $30 and comes with batteries and a non-descript carry case, so you can take this away with you and no one would know what was inside.
The range at Babeland is extensive and varies from JimmyJane and Lelo, to lesser known brands. Each item seems to have been specially sourced and selected for its pleasure giving qualities, so we can see why the team at Babeland are proud of what they have achieved.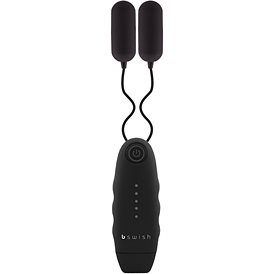 We found this little gem hiding in the pages of the vibrators section called the Bnear Dual Bullets; it's an awesome little toy that packs a punch.  This bullet can be enjoyed solo or as part of couple's play, plus its water proof so you can use it in the bath or shower. With five different vibration levels, there is no limit to the fun that can be had with this small but mighty sex toy which is only $29.
If you guys are wondering 'what about me?', then don't' worry because Babeland provides plenty for you too; from Tenga and Fleshlight, to cock rings and penis pumps.
Bondage Section
Babeland has a huge range of bdsm, bondage toys and accessories, so if you're a novice or a full blown dominatrix; you'll find everything you need including the all-important accessories, lubes and how to guides.
If it's just a little slap and tickle you're after, then you need to check out the Principles of Lust Couples Kit. This includes a blindfold, wrist restraints, feather tickler, finger vibrator and an adjustable cock ring.  All guaranteed to give an easy introduction into the world of bdsm, its $49 and well worth it.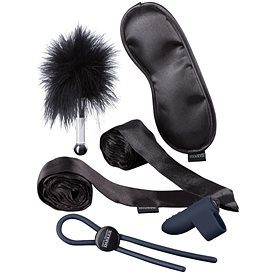 For those who prefer to be restrained then how about the Bondage Rope Starter Set, for your red room of pain (little 50 shades humour there).  This kit contains 3 ropes that can be used in all kinds of restraint situations. There is an instruction DVD included to help you get the most out of your starter kit. But for the more experienced of you, this is a nice little addition to any bdsm kit that you have lurking in the bottom of your wardrobe; and it's only $85.
Sex Info Section
The Sex Info section on Babeland has a wealth of helpful hints, tips and how to guides (including videos), to benefit even the most tactile of our readers. The most recent blog article at the point of us writing this review, was all about the joys of anal sex. We would highly recommend you check that one out, as it helps to dispel a lot of myths surrounding anal sexploits.
Head over to the Men's room for new gadget and toy reviews, and if all else fails go to the Rachel and Claire section (the founders of Babeland) where you can pose your questions directly to them; how amazing is that!
Adult DVD's and Books
There's a veritable smorgasbord of adult DVD's and books at Babeland, so if you are looking to set the scene or simply indulge in some private fantasy time; then make sure you check out what's on offer.  With classics such as Debbie does Dallas to mainstream DVD's covering every fantasy you could think of, the video section has something for everyone.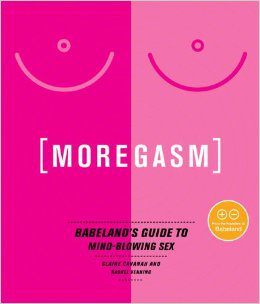 The Books don't let us down either, because everyone's favourite Fifty Shades of Grey Trilogy makes an appearance, as does Babelands own foray into the sex book industry Moregasm.  The book is a how to guide written by Babelands founders Claire and Rachel, to give hints and tips on how to get the best out of your sex life.
Postage, Packaging and Returns
Although Babeland is based in Australia it does ship internationally, but there is a delivery cost. If you see something you like and you are based outside of Australia, then check the shipping payment options that are indicated on the site (Head to the FAQ section if you struggle to find it).
Returns are accepted for any item showing a manufacturer fault, shipping defect or any damages not caused through general use.  You need to return the item within 30 days to receive an exchange or a credit note.
All packages are discreetly wrapped and show as MailOrder on the wrapping, so no one will be any the wiser when your naughty products arrive.  Payments for this site are automatically done via PayPal, giving you an easier checkout experience and peace of mind on any transactions made.
Social Media
Make sure to head over to Babelands many Social Media pages including Facebook, twitter and Tumblr for product information, competitions and just a general hello from the team.  These will be the best places to hear about new products and offers, if you haven't already signed up for the newsletter.
So, what does Sexy Time Toy Zone think?
Sexy Time Toy Zone are big advocates when it comes to promoting sexual health and happiness. Which is why we love that there are a growing number of companies and sites, which provide us with everything we need at incredible prices.
Babeland are one of the original progressive adult toys brands and have led the way to the introduction of many others. But it's not simply about the toys with Babeland, because they offer a wealth of knowledge and experience to their customers, plus a community atmosphere that's quite heart-warming to see.
So whatever your experience don't be afraid to head over and register for their newsletter, because who knows what you may end up trying.
Promotions and offers subject to change, please ensure you check out the terms and conditions before you order.