Unfortunately there is no promotional scheme available through Better Sex by Sinclair Institute to assist us in advertising the site. As such we have provided you with an alternative called Lovehoney, which is an impressive adult site offering an incredible range to suit all.
Sexy Time Toy Zone bring you an adult retail site whose motto is "everything points to pleasure" and we have to agree. The Better Sex by Sinclair Institute sound very technical, but they are a team which pride themselves on being the worlds trusted destination for adult products. Of course with a claim like that we had to check them out!
So, what can we expect from the Better Sex by Sinclair Institute?
Vast selection of sex toy and vibrators for men and women,

Bondage and Lingerie,

Accessories and Movies,

100% satisfaction guarantee,

Free shipping options,

90-day money back guarantee,

Privacy assured,

Sales and Offers,

Multiple payment options.
Overall Look of the Site?
The first thing we noticed when we hit the homepage of the Better Sex by Sinclair Institute, is the eye-popping graphics. Many of these advertise the fact that the Better Sex by Sinclair Institute products have been featured in USA Today, Playboy, Men's Health and the Discovery Channel.
Now that is some top-class marketing strategy right there, because let's face it anything that makes it into USA Today and Playboy is well deserving of applause.  The other thing we liked about the homepage is that it wasn't throwing sex in your face like some sites can. It has an understated and more gentle approach to what is on offer throughout the site and that, we applaud.
There is nothing wrong with being overtly sexy and over the top, but sometimes less is more and that has certainly been achieved here.  As we scrolled down the homepage, we saw the usual categories all laid out for the customer to click through. This site is so easy to navigate, we can't imagine anyone finding it difficult to locate what they need in a hurry.
Sex Toy Section
You would imagine that if the Better Sex by Sinclair Institute has a sex toy section, that it would include vibrators. But not on this site, because vibrators has an entire section on its own. With over 800 products in the sex toy category there is a lot to choose from, so separating it from the vibrators was a clever move.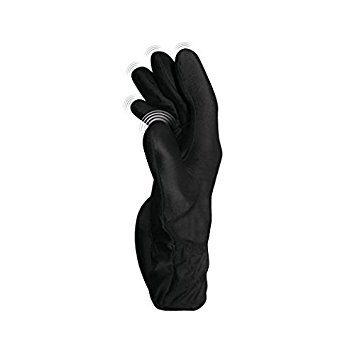 You can of course just peruse the items that are shown as they arrive on screen (we love to do this here at Sexy Time Toy Zone), as we always find things we never thought we would need. But if you prefer to dive straight in, then you can select from the box on the left-hand side and go straight to the toys you want specifically.
We first noticed this amazing product by perusing the list and we are so glad we did. Now if you have ever read one of our reviews before, you have probably heard of the JimmyJane Touch. This is a vibrator that is wrapped around your wrist and the vibe is on your finger, turning it into a mini vibe.  Well let us tell you, when you see this next product it will make the JimmyJane a thing of the past.  We give to you the Fukuoku Five Finger Massage Glove!
This glove will take masturbating to a whole new level in couples play; we are sold already. It's made from waterproof Lycra and has five vibrators in the fingertips.  Now if that isn't enough to get your pulse racing, then when we tell you that each vibrator hits up to 9000 vibrations per minute you'll surely be astounded; and that's in each fingertip vibrator not combined. This means that when all five fingers are hitting the body, you are receiving up to 45,000 vibrations per minute. WOW, intense right?
It has a dual speed power pack meaning you can alter the sensations if you are wanting a relaxing body massage, or a full on thrill seeking session. To add to the titillation you can use the glove in the bedroom or bathroom, as it can be completely submerged under water.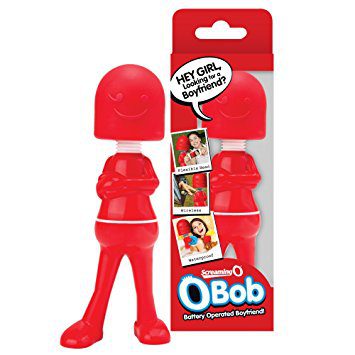 There is one catch in that it is only the right-hand glove at present, but whether they will introduce a left hand in the future who knows.  You can pick this little delight up for $64.99 but it will pay you back tenfold, as it is so discreet you can literally take it everywhere. Leave it in the car, your bag or pack it in your holiday luggage and no one will be any the wiser.
Vibrators Section
Moving swiftly on to the vibrators section, we see over 300 options and again there is no shortage of new and interesting vibrators here.  Our top picks must be the Screaming O Bob Massager at just $28.95, it's just too amusing to miss out.  The team have dubbed Bob as the "perfect toyfriend" and in all honesty, we are inclined to agree. This is a great addition to your collection as Bob can be left standing on your shelf, as he looks just like a kid's toy.  Bob has three speeds and a flexible neck to reach those important and most sensitive areas.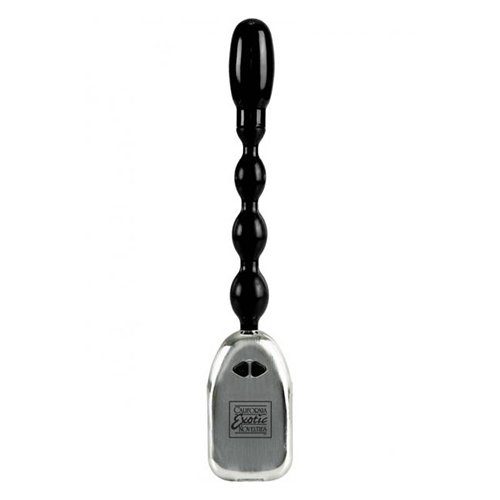 Our second pick has got to be the Silicone Flexi-Power Rod, now this may sound a bit severe but trust us it is going to rock your world.  This toy combines vibration, anal probing and anal beads in one powerful sex toy that can be used in anal play as well as vaginal.  It contains beads that have been moulded into the sections that are dotted along the bendable shaft, which is made from soft silicone that will move with you.  This has to be one of our absolute favourites as it can be used for men and women, and combines all three of the best of sexual experiences into one great toy. Then add in the fact it's only $29.95 at the Better Sex by Sinclair Institute, bargain right!
Bondage Section
The bondage section isn't as vast as sites like Uberkinky and a lot of what is available is pretty run of the mill stuff. But we have to applaud the restraint sheets we found here costing $199.99. If bondage is your thing, then this sheet is certainly going to be an investment.  It has drawstring corners which means the sheet can be adapted to any size bed.  It also has under mattress stabilising straps, with Velcro anchor pads and adjustable restraints.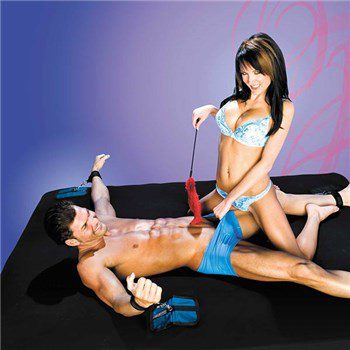 This is going to be one to order if you are interested in stepping up your bedroom game.
Lingerie Section
The lingerie section is filled with Teddy's, corsets, fishnets and body stockings galore.  Plenty of tantalising and tempting additions to your wardrobe, so make sure to add those little extras on before you check out.
Movies and Accessories
In the movies section, you will find over 100 different DVD titles to order, as well as audio titles and books too.  The team really have covered all the bases when they created this site.  The titles however are not xxx movies, they are quoted as instructional DVDs such as the guide to better sex and 12 ways to boost your libido. So plenty of options to choose from to help improve your sexual exploits.  In the accessories section, you will find positional aids, sex swings, shower handles and foot rests; plus those ever important batteries.
Sale Section
You all know how much we here at Sexy Time Toy Zone love a good bargain and we are happy to say that the sale section, is a plethora of all things naughty.  With sale items starting from $4.38 for a book entitled The Clitoral Kiss, which is a 48 page instructional guide to the art of oral sex. To luxury items such as Fleshlight, Jopen and Robo Fuk.
Shipping, Delivery and Returns
Shipping is free if the order is $59 or over, however if it's less then there are different shipping charges available. This is dependant on where you are in the world, so make sure to check out the FAQ section before ordering. The charges start from $8.00 and vary on country and whether you choose standard, overnight or 2 day delivery options.
You can return any toys within 90 days if you are unsatisfied and Better Sex by Sinclair Institute will either swap it, or exchange it. If you choose the exchange option, then it must be for different product to the same value. They even offer the option of your money back which is unusual, because they want to provide a 100% satisfaction guarantee.
After the 90 days should you wish to return the product, it can only be refunded or exchanged if the item is faulty or defective; so be sure to make your mind up within those 90 days.
Privacy and Discretion
As usual with all the sites we review, the team at Better Sex by Sinclair Institute offer you 100% discretion and privacy in all transactions. With packages wrapped in discreet wrapping bearing no notice or details of what is inside. The return address shows as S.I.I and on all bank or credit card statements you'll see it recorded as the Better Sex by Sinclair Institute.
Payment Methods
Multiple payment options are available on the Better Sex by Sinclair Institute including the use of all major Credit/Debit Cards and PayPal.
What does Sexy Time Toy Zone think?
We really liked digging around this site and its fresh clean look was very easy to navigate. This made searching for the next big item to add to the naughty kit, so much easier than other sites. We are looking forward to seeing where the team moves in respect of the bondage and lingerie sections. There is much more scope there to extend beyond what they already stock, but other than that we really like what the guys at Better Sex by Sinclair Institute have to offer; so we'll be back for more.
Promotions and offers subject to change, please ensure you check out the terms and conditions before you order.