Aloha my beautiful Sexy Time Toy Zone readers, I hope you are sitting comfortably as today we take a slightly more elegant walk amongst the sexy lingerie, sex toys, accessories and clothing apparel that the exotic Bluebella.com provides us.
Bluebella was founded in 2005 and her vision was to create lingerie that made women look and feel great; to offer amazing quality at affordable prices and after having a look around the site they have done just that.
Emily Bendell the founder and CEO of Bluebella has been quoted as saying "No one should leave gorgeous lingerie languishing in a drawer just waiting for that special occasion. Our highly wearable collections can make every day feel just that little bit more exciting". Hands up who needs a little more excitement in their lives (waves hand excitedly).
So what can you expect from Bluebella.com? as a mere youngster on the market having only been around for ten years, you wouldn't think much, but a quick glimpse at the fresh faced website allays all doubts and this site can provide everything you need at a price you can afford.
Summary of what's on offer at Bluebella;
Lingerie and nightwear ranging up to size 26,

Sex toys and accessories to tease and tantalise your way to his/her heart,

Outlet section where you will find all the sale items,

Wishlist for planning the perfect outfit or for sharing with your partner for gift ideas,

Blog zone find on trend styles, fashions and travel amongst other things,

Social media connections bringing you the latest news, competitions and new collections,

Free next day delivery on all orders over £30 and free UK returns within 30 days,

Multiple payment options and gift cards are also available.
What's Available?
Let's get down to the nitty gritty because that's what we are here for after all. When you first hit the Bluebella home page it's is a sight to behold, drawing your eyes straight away to images of items available. There is nothing to distract you from the elegant yet erotic lines that have been created by the designers. The navigation of the site is sleek and it takes you from collection to collection with ease.
Lingerie & Nightwear
Its Lingerie range is sensuous and sultry to say the least, with sets that have bra's which double as bondage items to seductive mesh that gives you a barely there feel to your lingerie. At prices that are not going to break the bank, Bluebella has truly managed to make lingerie exciting and intoxicating, whilst also being something that you would want to wear every day, not just on that special day.
In the nightwear section you will find everything you need to cover up without truly covering up, if you don't want to bear all, there are chemises, camis and even pyjamas that still make bedtime sexy.
Are you tired of searching for that special gift for your partner, who's just too hard to buy for? then head over to the accessories section and pick up a fabulously flirty body bow. When you receive it in the post, light some of the mini massage me candles (lickable too by the way), wrap yourself up and voila the perfect gift for someone that has everything.
Sex Toys
The Sex toy section at Bluebella isn't huge (but size isn't everything right); however what Bluebella does have is definitely worth a look. Again they have made sure that everything in their accessories are affordable and high quality with Vibrators starting from just £10. The selection ranges through vibrators, anal toys, floggers, ticklers, restraints, oils and candles for every eventuality.
Bluebella Sale & Outlet
The outlet section is your last chance to purchase items before they are removed either from the sale, or from the site completely. Sale prices start from as low as £2.40 and there are so many incredible bargains you don't want to miss out!
When you see something you might like for yourself or your partner, but you're not too sure, then add it to your wishlist to save for later (or for payday). You need to be signed in to be able to add to the wishlist but all this involves is providing an email address that isn't shared with third parties. It's also the perfect way for Bluebella to contact you with offers and news, as well as you being able to access the wishlist.
Bluebella Advice and Tips
The Bluebella Blog Area has something for everyone, from beauty tips, packing tips, sizing guides amongst other things. Competitions are posted here and the latest competition is a must to try. You will also find the latest tweets here, but I would highly advise following Bluebella on Twitter and Facebook, so you get notified first hand of their competitions. They also have a presence on Pinterest, Instagram, YouTube and Google+, so if you join all avenues you will never miss a trick.
Delivery and Returns
Delivery is free for orders over £30 and if placed before 5:30pm will be delivered the next day (awesome). Other delivery costs start from as low as £2.95 so again Bluebella are taking affordability to another level and linking it to their delivery costs. Tracking is available on all orders so you will always know where your parcel is meaning you aren't wasting time hanging around, but if you're anything like me and know a parcel is due then you will be home eager to get it unwrapped and tried on (make sure the delivery guy has gone first though save his blushes).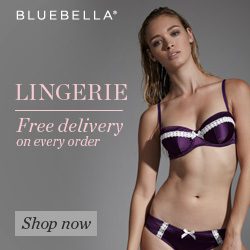 Bluebella offer a 30 day returns policy. This is also free for all UK returns making the savings for their customers wherever they can. They are happy for you to return items for a replacement or full refund as long as the item hasn't been used or worn. Please make sure you check the website as all details and forms relating to arranging the returns are easily found there.
Bluebella Payment Methods
When it comes to payments, I know that sometimes paying for those sultry outfits can sometimes be off putting, but with Bluebella's prices you will not be disappointed and to make things easier, payments are accepted via all major credit and debit cards and PayPal.
Gift Cards
Gift cards are also available so if you have a friend who has just got divorced or going through a split and needs a sexy boost then head on over select your amount from £10 to £500 and fill in the details, the Evoucher will then arrive at its destination. All the recipient needs to do then is log online, shop to their hearts content and use the code on the gift card; easy peasy and one very happy friend.
So what does Sexy Time Toy Zone think:
Bluebella.com combines all things sexy with an elegance and erotic tone that draws you in. You can easily spend hours trawling through the different sections planning outfits and accessories to match (I personally have created a wishlist the length of my arm).
The lingerie and nightwear has an allure to it that draws your eyes to all the right, or should that be wrong places. The accessories are gorgeous, right down to the silk body bows and toys, at prices that aren't going to break the bank.
Bluebella is definitely the site to watch, make sure you do and tell us all about it on our Twitter page @SexyTimeToy; I know we here at Sexy Time Toy Zone will be.
Promotions and offers subject to change, please ensure you check out the terms and conditions before you order.