Greetings ladies and gentlemen, Sexy Time Toy Zone are ready to bring you yet another tantalising review. This time were are delving into the silky smooth depths of Bondara.co.uk so grab a drink, get yourself comfy and lets begin our journey into all the pleasure you can dream of in one place.
Before we indulge ourselves I must state that of all the sites we have reviewed recently Bondara is definitely trying to beat the competition off with a cane. Not only is the site pleasing to the eye but it is easy to use, with helpful hints available for every possibility through their help section; plus sales offers, free gifts and so much more. You will receive a notification on first accessing the site giving you the option to join the mailing list and on doing so you will receive 20% off your first order. If that's not enough if you sign up and become a member you get 5% discount every time you order.
So what can we expect from Bondara.co.uk
Lingerie, Club wear, Menswear and Plus Size Clothing range,

Sex toys, Gifts and games galore,

Bondage and Fetish collection,

Special Offers and Discounts,

Newsletter, Blogs and guides,

Gift wrapping service and gift vouchers available.
When you first log on to Bondara, you are met with luscious colours and imagery all set in place to tempt you deeper into its pages. A strong sense is given by the team at Bondara that the customer is at the focus of all they do and this is reflected in their positive feedback of 98%; plus customer reviews which show that you are in the best of hands. I can already understand the reasoning behind this positive feedback just by the discounts offered before even entering the site, things can only get better from here I assure you.
So let's see what has made all those customers so happy shall we.
What's Available
With every order over £30 you will receive a free gift, by entering the Bondara voucher code GIFTHIM or GIFTHER which is either a silver bullet vibrator for her or a super beaded cock sleeve for him. The options on the sex toys are subject to availability and as such are likely to change from time to time so get your orders in now boys and girls.
Lingerie & Clothing
The thing I love most about the clothing range available within Bondaras pages is the sheer quantity and quality of items available for women and for men. But fear not my lovely readers, although the quality is of the highest standard the prices are not and there is plenty to choose from without breaking the bank (though there is a very sexy robber's outfit on the costume section). For those that like to take the raunchy out of the bedroom into the world, there is the sexy clothing range which will definitely turn an eye or ten down the local on a Friday night. Bondara offers a hosiery section and let's not forget those of us on the larger side of life. I must applaud Bondara on their plus sixe range, normally you would struggle to find plus size lingerie or risqué clothing at a low price, or if you do you would definitely lose out on quality; not the case with Bondara's plus size range with some items going up to a sexy size 24.
Bondara Sex Toys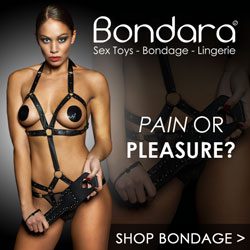 Once you have your outfit sorted you need to arrange the toys too, so let's head over to the Sex Toy section and see what we can find lurking over there. Bondara state they have over 1 million sex toys available within their range (I for one am not about to try and count them all, so I'm taking their word on this one); 1 million I hear you say how will I choose. Well my beautiful people that's really up to you but I can tell you with these prices even if you order something, then regret not getting that extra glass dildo or ribbed cock sleeve it isn't going to cost too much to get back online and order again and again (don't forget fully fledged members also get an extra discount).
Bondara easily separates all its toys into sections so you can dive straight into the ones you think you want, but the other options are clearly linked for when you want to experiment. Launching brands such as Tenga, Fleshlight, Screaming O and many more naughty household names you are guaranteed the best of the best when you search the toy range here. I would recommend the Ultimate Love box retailing at £29.99 it has everything you and your partner need for a wild weekend in. But I will leave it to you to peruse all the items available as I'm sure I have already piqued your interest.
Bondage and Fetish
For those of you whose tastes are a little more singular ( to quote a certain Mr Grey) Bondara provides an extensive Bondage and fetish range including a beginners bondage section for those of you new to the scene, expanding to the more darker side of the fetishism world including Medical fetishism, electro play and furniture. Combine this with the fetish wear, outfits and accessories, you have the perfect start to your bdsm night in or night out.
Bondara Discount Codes & Offers
Now earlier on I mentioned the special offers, where do I begin. First off you have the fantastic deal of the week 3 for £30 on sex toys, 2 for £14.99 on anal toys, 3 for £11.99 on knickers and 2 for £18.99 on body stockings. But wait there is so much more, on top of the free gift for him or her on any order above £25, you can also choose from other freebies such as a free Rocks off vibrator when you spend £25 or more on the Rocks Off range (so that's one paid for vibe and two for free I'm not complaining there). Multi buy options on the gifts and games, plus a free feather tickler when you spend £25 or more on bondage items on top of the 5% membership discount and any other discount codes you can apply. What more could you ask for?
There is a sale section with up to 50% off items, which if all the above hasn't already had you running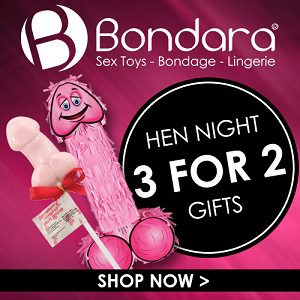 for the computer, the sale will be the final straw. Bondara has an offers section which lists all the current offers, multi buy options, discounts and money saving options in one place, but in all fairness to Bondara these are very plainly highlighted on every page you turn too. I have listed but a few of their absolutely mind blowing deals, but there is so much more waiting for you to take advantage of.
We also load our social media profiles with exclusive Bondara discount codes, so be sure to follow us for a sexy surprise.
Community
Bondara offers an extensive help and community area, where you will find their very informative, fun and sexy blogs giving you information on fetish queries, eating to be sexy and much more. You will also find here the guides for every possible eventuality such as the anal sex toy guide, Female strap on guide, men's sex toy guide and so much more, so make sure you head over here first if you are planning to try something you have never done before.
Gift Cards
If you are purchasing from Bondara as a gift for someone you can have the items gift wrapped for an extra fee (£3.90 to be exact), this will get you your order packed in an exclusive branded gift box that looks absolutely lush. You can choose for your gift to remain anonymous, but my advice is don't, you will want to reap the rewards for sending such a saucy gift. Not all items are eligible for gift wrapping due to size restrictions.
If you don't want to send a specific gift as there's so much to choose from, you can send a gift card in denominations of £10, £20, £30, £50 and £100 and as an added bonus if you order over £29.99, then you can still receive the free gift for him or her by entering the appropriate code. Vouchers are emailed with a message to the recipients and can only be redeemed online.
Payment Options
Bondara offers variable payment options including all major credit and debit cards and even PayPal for those of you that prefer to pay digitally. All payments are processed through Sage Pay one of the UK's most used and trusted online payments operation. Discretion is of the utmost importance to the team at Bondara and any payments or transactions will show as Nagook Ltd, so no one will be any the wiser as to how you spend your recreational hours.
Delivery & Returns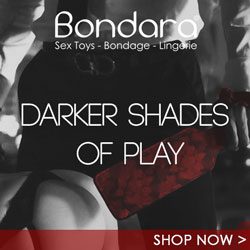 When it comes to receiving your goods, we recommend you check out the Bondara page. Because depending on the amount you purchase you may enjoy free delivery. There is a 48 hour royal mail tracking delivery service, so you won't have long to wait for all your naughty little goodies. If however this is not quick enough (you impatient little vixens), then you do have an alternate delivery option of express for an extra fee. Again delivery will be discreetly packaged and the senders name is noted as Nagook Ltd, so this will save any embarrassment when the postie has his hands on your goodies.
Returns are also free, there is a 365 day refund or exchange policy in place for all unopened and unused items. However if your item becomes faulty within 180 days of purchase you may also return it for a refund or an exchange; win win all round don't you think.
So what do we think here at Sexy Time Toy Zone:
Wow wow wow, I am overwhelmed at the amount of products that I have already added to my wishlist (available once you become a member), the discounts and freebies are really something to be in awe of. Of all the sites we have reviewed none have had as many offers as Bondara gives to its customers. It's easy to see why they have the 98% customer satisfaction. If you save one website to your favourites today make it this one www.bondara.co.uk; get logged on and get your every desire fulfilled and then some. Until next time happy clicking and have yourselves some amazing sexy times ahead.
Promotions and offers subject to change, please ensure you check out the terms and conditions before you order.