Welcome to the sensuous world of Ella Paradis and their mission 'to enhance the pleasure in the lives of every customer'. We at Sexy Time Toy Zone have been taking a sneaky peek to bring you some tantalising treats. Based in the United States, Ella Paradis has been in business since 2015 and rapidly grown in popularity ever since. They have a catalogue of over 20,000 products including sex toy, clothing and accessories. We're not sure we'd have the room to house that many toys, but we'd sure like to try!
What to expect at Ella Paradis;
Bondage and BDSM,
Lingerie,
Games and gifts,
Sex essentials and accessories,
Social media and Blog,
Free shipping and return,
Variety of payment options.
Well that is a brief introduction to all you can find within the loving folds of Ella Paradis, but there is so much more to see. So, sit back and get comfy whilst the team here at Sexy Time Toy Zone do all the hard work for you.
Website Layout
At first glance the homepage is bright and welcoming, with lots of tabs that you can click through for certain parts of the site. Everything is clearly labelled and they even break it down to smaller categories when you hover over the tabs. But we don't want to finish fast do we? Oh no, we want to take things nice and slow, so let's start with the fantastic range of sex toys that can be found here at Ella Paradis, shall we?
Sex Toys
You can see across the top of the page separate tabs for Vibrators, For Her, For Him and For Couples. There's even a specific section for 50 Shades toys, lubes and a breakdown of the brands they sell (just in case you have a preference). We started in our favourite section, the vibrators and what we found there is going to curl your toes in pleasure. You will discover a wide range of vibrators from know brands such as Lelo, JimmyJane, Fleshlight and many more.
Our first item is the Vive Enoki Wand Massager by Shots and it is beautiful. A mixture of rose gold and lush pink or purple colours, this mini wand massager would look stunning on any vanity table or bedside cabinet and no one would know what it was. Not only does this sensual massager offer 10 speeds of vibrations, it is quiet as a mouse and waterproof too. If that isn't enough it is so soft and flexible that it is bound to have you purring away, but then hit the climax function and you will be climbing the walls with ecstasy in no time.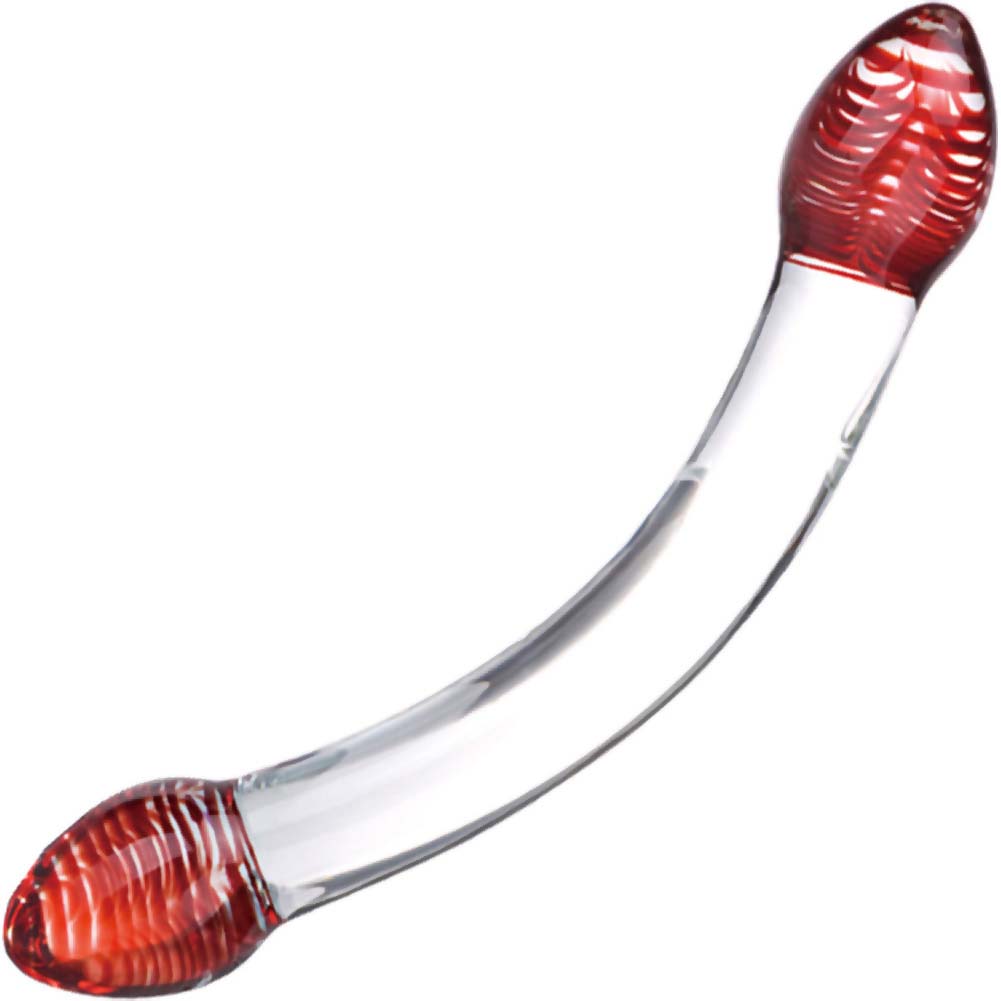 If for some reason vibrators aren't your thing and you are more of a double ended dildo type of person, then you are going to love this next item. The Redhead Double Glass Dildo by Glas, is a fine piece of work and is going to really impress in all directions. Measuring at 9" in length with stunning bulbous tips at either end, it will give ultimate pleasure for both parties. The joy of glass dildos is that they can retain heat if you want them too, or cool them gently to add new sensations into your couples play.
This next item really struck a chord, because we thought why feature one product when we can feature 10! Check out the UR Pleasure gift box for him and him. This collection is designed by men and for men, although we don't see any reason why the ladies can't get in on some of the action. The box contains a veritable smorgasbord of delights, just waiting to be unfolded. These include a feather tickler, 2 masturbator sleeves in different styles, a Sono butt plug, massage oil, massage oil candle (because you can never have too much massage oil), 2 cock rings and of course lubricant and 2 sample flavours as well.
Now, if you haven't already headed to check this bad boy out, you will be happy to learn it isn't as expensive as you would think.
Bondage Range
Hot under the collar yet? Well, try to hold it all back a little more, as the Sexy Time Toy Zone team aren't finished with you or Ella Paradis just yet.
Who here has wanted to give bondage a go but you're a little shy, well there are plenty of options at Ella Paradis? Why not try out this next item and you will see there's nothing to worry about. Our first item is the amazing 50 Shades Darker Desire Couples Kit, ideal for those just starting out.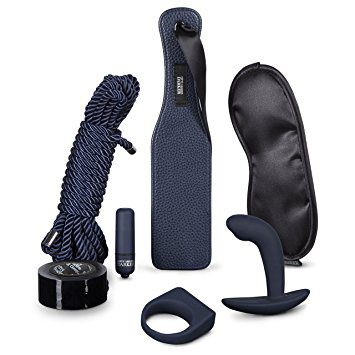 It includes a satin blindfold, silk rope, bondage tape, a paddle, butt plug, mini bullet vibe and a vibrating cock ring. Everything you need to step into the dark and delicious world of BDSM. Start small with the blindfold, tape and paddle, but then when you feel more confident simply work your way up to add the vibes.
For the more experienced of you in BDSM we found this absolutely electrifying item, the Agent Noir Erotic Neon Wand Kit from KinkLabs. At first glance you will see a metal case with handcuffs securing the case to your person, talk about feeling like a secret agent; Agent 00ooh reporting for duty! Simply open the case to reveal your secret weapons of pleasure. These include the electric neon wand itself, power tripper, a probe, pinwheel, drum, electro whip and a range of attachments including bulb, comb, tongue, mushroom and probe.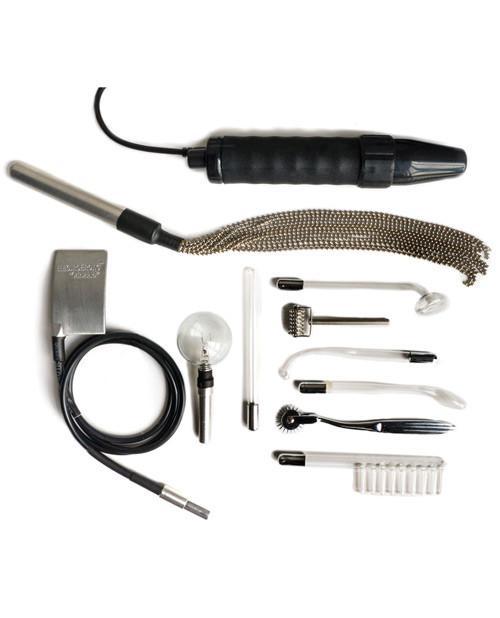 It has never been easier to get up close and personal with electricity, you literally just plug and play. What's more connect the power tripper to your partner and turn them into a living electrode, meaning their skin can be used to send shocks down your spine literally. If that's not enough you can hand them any metal object to transfer the electric through, meaning your household objects will never feel the same again.
Lingerie Section
The lingerie section has all you need to get the mood set just right, sexy time is a visual thing for most people after all. So why not treat yourself and your partner to a few naughty items from the Ella Paradise wardrobe. The range includes plus size items as well as baby dolls, crotchless and body stockings, so you are sure to find something that suits.
Sexy Games
Although there isn't a tab for it, there are plenty of board and card games available on Ella Paradis. At the time we posted this review there was over one hundred options, so definitely someone for everyone. Buy yourself something which will get the playful side going, such as the Karma Sutra Sex Deck. A pack of cards featuring 99 positions from the Karma Sutra and 12 additional "lust lessons".
Sex Essentials
If you're looking for something to get the atmosphere just right, then Ella Paradis is the perfect place. There is a huge choice of essentials such as lubes, condoms and sex toy cleaners. The Earthly Body Edible Candle set is comprised of an edible massage candle in Cherry, Grape and Strawberry.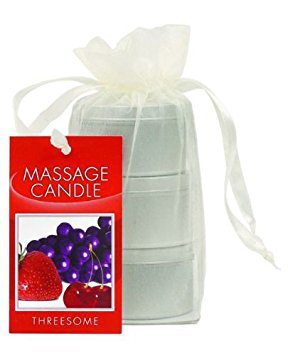 They are perfect for adding a romantic feel to the bedroom and then being used in your massage play.
Ella Paradis Blog, Newsletter and Social Media
There is a lot more on offer at Ella Paradise, including a very informative and exciting blog section. It covers a range of topics from sexual health and relationships, to sex toy use and so much more.
If you are on social media don't forget to link up on Facebook, Twitter, Pinterest or Google+, for more hints, tips and even special offers. You can also sign up for the newsletter to get all of this to your inbox, along with a special one-off coupon when you first sign up. Once you have set up your personal account you will also have access to the wishlist too, so you can save products and send the list to your partner for gift ideas.
Shipping, Delivery and Payment
Free shipping is offered for orders that are over $35 for US destinations only. It would be very easy to spend that once you start leafing through the sheer number of products available. Ella Paradis do offer international shipping at a reasonable price, but we recommend that you check out the shipping FAQ before you order as terms and conditions may apply.
If you need to return an item Ella Paradis offers a 90 day returns policy for unopened items. But you need to ensure that you have spoken to an Ella Paradis employee regarding the return, as unauthorised returns are not accepted. If your item is defective or damaged, again your best route is to contact Ella Paradis directly and they will do their best to ensure you have a resolution wherever possible.
All products are packaged and shipped with your utmost discretion in mind. The only blushes Ella Paradis want are those in your cheeks when you have unwrapped your new treats, not at the door when they arrive.
You have a variety of payment methods available to you which include PayPal, Credit or Debit cards including AMEX and even Apple Pay.
What does Sexy Time Toy Zone think?
Over 20,000 products, a customer certified stamp and having been featured in multiple magazines across the world. There isn't much to say about Ella Paradis that hasn't already been said. What we can add however is that although this company is relatively new, it has certainly taken the sex toy industry by storm and will continue to do so. This is definitely on Sexy Time Toy Zones one to watch list, now off you pop and treat yourselves to some new goodies for the naughty draw.
Products and other aspects of the site are subject to change, please ensure you check out the terms and conditions before you order.