Sexy Time Toy Zone have something great for you to get your teeth into, so let's look at what delights the lovely team over at Filthy Dirty have in store for us.
Filthy Dirty have a simple motto and it is that "sexual fulfilment is as basic a need as air, food, shelter and water". They strive to provide the most comprehensive selection of sex toys, accessories and extras which they hand pick with their customers in mind.
Let's see what you can find over at Filthy Dirty:
Gift guide and wrapping service,

Backroom Blog,

Discreet shipping and privacy,

US and Canada shipping only,

Social media presence,

Multiple payment options available.
That's what's on offer in brief, but we don't like brief here at Sexy Time Toy Zone (unless it's in the pants form). We like to get down and filthy dirty (like what we did there) so let's do just that.
On first hitting the landing page you are instantly engaged with what seems to be the heart of what the team at Filthy Dirty are all about and that is ensuring a great experience, not just as a product user but as a customer too.
The main homepage is a veritable mish mash of options that will lead you to specific areas such as Men's shop, Organic Offerings and our favourite the Honeymoon Gift Shop. This is packed full of naughty treats to buy the newlyweds because let's face it what would they prefer, another dinner service or some chocolate body paint and kinky hand cuffs. From the homepage, you can navigate across the sections, so let's start with sex toys because that's what we are here for.
Range of Sex Toys at Filthy Dirty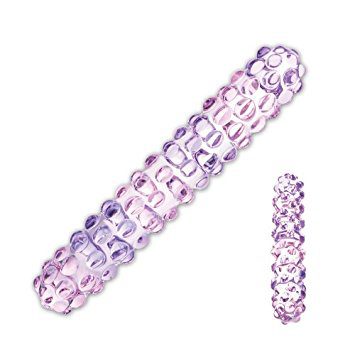 The shop section is where you will find all things sex toys and with 21 different sub sections, you can possibly feel a bit overwhelmed. To ease any concerns each section has been cleverly designed so that if you are not a page surfer like us and you know what you want, you just need to head to the relevant section and voila they're all categorised.
You will find the usual suspects here such as WeVibe and JimmyJane, nestled alongside some new friends you haven't met before such as Glas and Mystim. We especially loved the Glas Purple Rose Nubby dildo. Aside from the fact it's on trend for fashion lovers everywhere with the purple and pink tones, it also has a spiralled and raised texture with nubs all over for increased stimulations. It is quoted as being fracture resistant for those of you that like to play hard and it is also able to retain heat or cold. So, place it in the freezer for those cooling sensations or place in hot water for the opposite; so much on offer and only a mere $19.00.
For the guys we visit an old friend the Tenga Flip, but the team at Filthy Dirty have secured the newest version the Flip Black at $99.00 and we love it. This male masturbator is going to get you wishing you had purchased it sooner, with a brand-new design inside the Flip Black including realistic feel; this is a must have for any guys. But wait there's more, it has three buttons on the front from which you can control the intensity settings inside for a much more personalised feel to your solo time. The Flip Black itself would also look good at home sitting on a bookshelf and unless you had reason to confess your deepest darkest secrets to everyone who enters your boudoir, no one ever needs to know.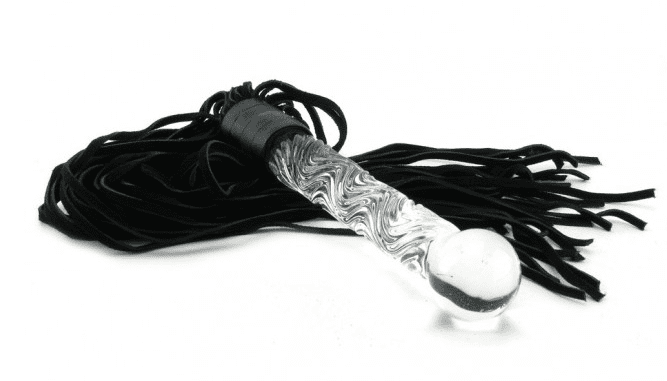 Before we head onto something else we had to provide a special mention to the next product which we all fell in love with. We like to exert our own bit of dominance in the office and this toy really brings out our inner dom/dominatrix. It is the lush Pipedreams Glass Whip which at a mere $50 combines an amazing glass handle that also doubles as a dildo, with a bulbous head and textured shaft giving a real feel to it when used internally. It also boasts 30 soft suede leather cords that can be used softly to tease along your partner's skin, or as a light flogger.
We think we have given you some toys for thought already, but let's look at the next section which we feel is a great way to highlight new products to any company and that is the 'What's New' page.  Heading over to this tab will bring you the latest stock, so you can get the trends before anyone else. Of course, we're eager to bring you a few of the new items in this section, so let's start with something shiny.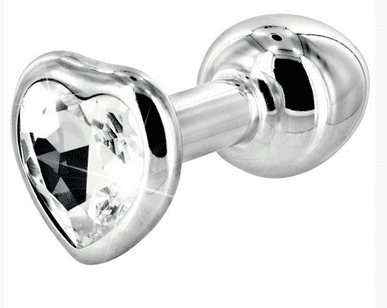 What better way to show the one you love how you feel, than with this the Swarovski Heart Plug from Diagol Paris.  You can find this chic sex toy in black at $70 or in silver at $86, but if you've fallen in love with both then why not treat yourself?
This Anal Plug has a slim tapered shaft making it great for beginners. The plug itself weighs slightly more than other anal toys of a similar size, meaning you will get a constant sensation whilst it is in place. The wonderful heart shaped Swarovski stone set into the handle, just gives it that little bit of elegance that other anal plugs can sometimes lack.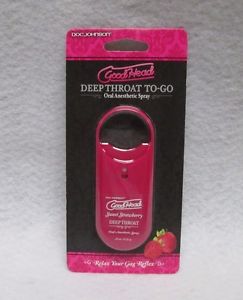 If that doesn't float your boat, then how about the handy pocket sized Good Head Deep Throat Spray. This spray has a mild numbing agent that means your throat is numbed slightly giving you release on that all encumbering gag reflex, which in turn will provide him with a great experience. This spray comes in three flavours, Mint, Strawberry and our favourite Cherry and at $9.50 why not treat yourself to all three flavours.
With lots of important dates throughout the year such as valentine's day, birthdays, Christmas or even just buying a gift for the sake of it, the team at Filthy Dirty have it all wrapped up for you; literally with their gift guide and wrapping options.  With gift guides for him, her and couples as well as options under $35 they really have thought of everything. Then to top it all off they also offer some beautiful colour combinations on the gift wrap for an additional $6.50, taking all the effort out of gift giving and making it super easy to surprise your loved ones.
Blog Section
We all love a bit of extra advice here at Sexy Time Toy Zone and not just our own, so whenever we review a site that has a blog or advice column we are always excited to see what they have to offer. The team at Filthy Dirty do have a link through to a blog section, which has yet to be filled with advice or information. However, having seen what lengths the team go through to provide the best of the best of the sex toy industry, we can't wait to see what kind of bloggers and advice columnists get involved in the backroom blog in the future.
Shipping Information
Currently shipping is only within America and Canada, but that's not to say that they won't look at international shipping in the future. They aim to ship same day if orders are received before 1pm, or within 24 hours if after that. Also, if your order is above $75 you will receive free shipping and the packaging is discreet with no description of products available, or company details.
Payment Methods
Payments can be made via all major credit cards including Visa, MasterCard and American Express. There's also PayPal for that extra piece of mind when purchasing online. Your privacy is maintained via payments as well and on your bank or credit card statements, because your purchases will show up as Oh&Co LLC giving no identity to your purchases online.
Social Media
The team at Filthy Dirty have a great online presence with social media accounts on Facebook, Twitter, Pinterest and Google+, so make sure you head over to each of their sites for updates, information on products and offers. There is an option to sign up as a member when you access the homepage which again is another great way of beating the crowds to offers and sale items.
What do we at Sexy Time Toy Zone think?
This site has a lot of scope to become a popular go to site for high end quality sex toys. The team obviously put a lot of thought into the products they sell and this comes across as soon as you start leafing through the sites pages. We are excited to see where the team at Filthy Dirty take this site in the future and can't wait to nose through the blog site as it is created and filled with hints, tips and advice columns.
Promotions and offers subject to change, please ensure you check out the terms and conditions before you order.