Unfortunately there is no promotional scheme available through Lelo.com to assist us in advertising the site. As such we have provided you with an alternative called Lovehoney, which is an impressive adult site offering an incredible range to suit all.
Lelo is one of the biggest brands in the adult toy industry, so it's not surprising to Sexy Time Toy Zone that they've taken it upon themselves to revolutionise the condom. If you've yet to hear about the Lelo Hex condom, then you're about to discover why this will become an important step in promoting safe sex.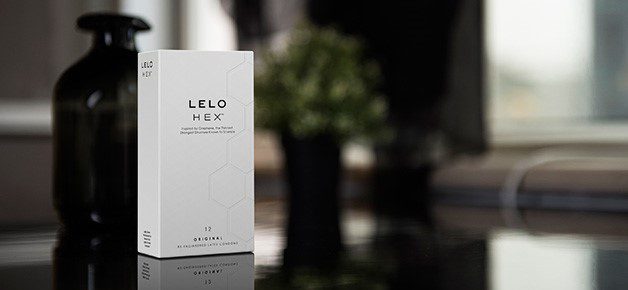 But first let us introduce you to Lelo, who offer some of the best-selling sex toys around. This Swedish company offers innovative designs, which has made them an industry leader known for luxury and high quality. Whether it's the INA Wave which is inspired by the caress of a lovers fingers, or HUGO which is a remote controlled prostate massager; these are both beautiful pieces and extremely satisfying!
Lelo Hex Condom
What you may not know is that the design of the everyday condom, hasn't changed for 70 years. With so much product innovation it's surprising that it's taken this long to introduce a new design, but boy have Lelo brought us something amazing with Hex.
Of course we all know the issues with traditional condoms, whether it's the discomfort felt by the wearer, the condom slipping or more commonly it breaking; all are major factors for many people. Due to the fabric of the condom, one slight break will lead to it completely splitting; this is where Hex breaks the mould.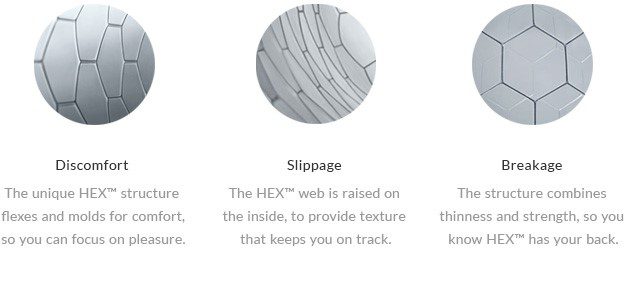 Lelo's Hex condoms have taken seven years of research and testing, to guarantee that sexual health safety is ensured. When you head over to the site you'll soon realise the importance of this product, because Charlie Sheen who recently opened up about his diagnosis of HIV is the brands ambassador.
The condom is made of a Graphene-inspired Hex structure, which provides strength but also thinness to bring you closer to your lover. The hexagon shapes throughout the condom are raised on the inside to reduce the possibility of slippage and improve sensitivity.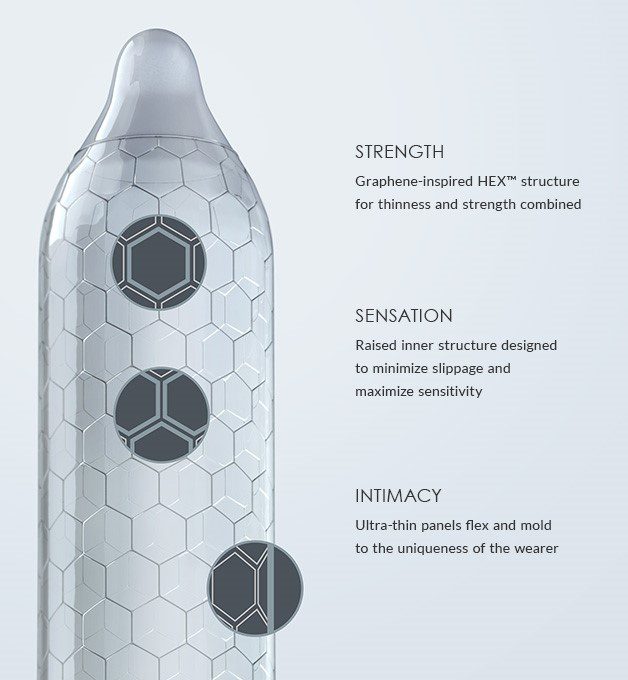 Also due to the 350 thin latex hexagonal panels, Hex moulds to the uniqueness of the wearer which can only enhance your sexual experience and intimacy. If one of the panels break then don't fear, because the internal hexagonal web means that only that panel will split.
Lelo offer a number of bundles which include the Hex, so why not take advantage and give this revolutionary condom a go!
Hex Bundles
The Way Forward – £36, 4 x 12 packs of Lelo Hex condoms.
The Hexecutive Lounge – £29, 3 x 12 packs of Lelo Hex condoms and one bottle of Lelo's Personal Moisturizer.
Hextra Pleasure – £69, 3 x 12 packs of Lelo Hex condoms, their premium moisturizer and $100 online gift card for any Lelo brand.
Man Up – £79, 3 x 12 packs of Lelo Hex condoms and the best-selling TOR 2 couples ring.
To discover more about this incredible product simply head over to Lelo, who provide a number of videos to further explain the reasons why Hex will become the condom of the future!
Promotions and offers subject to change, please ensure you check out the terms and conditions before you order.