So it's that time again fair readers where we at Sexy Time Toy Zone delve into the luscious depths of one of our sites Nice n Naughty. So sit back and relax and let me talk you through the tricks and treats available for you at this delicious site.
Nice n Naughty has been in business since 1999 so they know their stuff. They are not only a highly visible online brand but also boast 11 UK stores as well. The Nice n Naughty brand was born in Chester in 1999 and has grown from strength to strength since then, having won many business accolades over the years.
What makes Nice n Naughty stand out?
Women's and Men's lingerie, clothing and accessories including sex essentials,

Free returns and free UK Delivery or store collection options,

Social media presence, Blog and Advice section,

Varied payment options,

Wish list and review service offering discounts for reviews.
On first entering the site you are inundated with sultry images of sex toys and sexy bodies, all bundled in a fun and flirtatious way. The main theme that runs through this site is one of a friendly nature, a basis that the owners held dear upon opening their first store. They wanted an atmosphere that makes it comfortable to shop whether you are male or female and this runs through to their website also.
The Range of Sex Toys
Let's begin with the single most important reason we are all here and that's for the sex toys. Let's face it there are sites out there that cover every corner of the sex industry, but none of them deal so light heartedly and in prices ranging from relatively cheap to a whopping £10,000 (yes you read it right); with Nice n Naughty you can be sure to find a toy to suit your needs and pocket.
The toy fun doesn't end there though with toys for him, couples, strap on toys, electro sex stimulators the list is endless. Make sure you pay a visit to the money saving kits section where you will find things like the sex toy starter kit including a vibrator, a cock ring, butt plug and lubrication all for just £19.99. With bargains like these you can see why they are the award winning company they have grown to become.
A Bit of Bondage
The bondage section here is as vast and exciting as the sex toys, with fifty shades of grey inspired products, starter bondage kits and items for the more expert of you out there; basically something for everyone.
If you are new to the bondage scene then check out the kits where you can find things like the sex and mischief intro to S&M kit including cat o nine tails, satin eye mask and handcuffs for £14.99. If you're an old hand and simply looking to take a new twist on something you already enjoy, then you are definitely going to need to look through what the Nice n Naughty website has to offer.
Dress up and Lingerie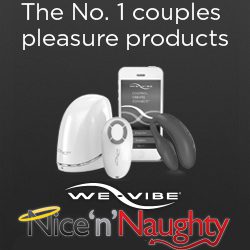 Now who here doesn't like a bit of dress up to kick start the evening? Well if its underwear or outerwear you're after, then look no further than the lingerie heading on the homepage. Dropping down into an extensive menu they offer women's and men's lingerie, fetish clothing, club wear, fancy dress and a list of accessories that will blow your mind.
Nice n Naughty also have a separate plus size collection which has clothing, lingerie and accessories running from a size 18 to size 26, because let's face it big is beautiful and here you will find that plus size has been embraced. There is a great range of fancy dress, lingerie and fetish wear to keep you up all night long. If your tendencies are little more specific then head over to the new cross dressing/transgender section where you will find everything you need to go from man to woman in a few clicks, or there is a great new section of spanking wear; clothing to keep your bare behind ready and waiting for those spankings to be dealt.
Sex Essentials
The sex essentials tab leads you to as many lubricants, oils, creams and other intimate needs and wants you could desire. My personal favourites are the massage candles and the tingle bath oil, but the lists don't end there as there is everything you might need in preparation for, during and after those special nights in.
Sexy Gifts and Games
If you're looking for stocking fillers or quirky gifts for your friends then head over to gifts and games. I've personally added a few of these to my wishlist as a few friends are getting surprises this year; but shhhh don't spoil the surprise. From novelty lingerie, to books, sex toy and games including the Karma Sutra playing cards for just £4.99 or the Lust board game at £13.99, once you have seen the fun and flirtatious ways you can build up to that erotic night in, these gifts and games won't find their way to your friends and you will be wondering what crossed your mind to give them away in the first place.
Sex Toy Sale Section
We all know how much we at Sexy Time Toy Zone love a sale and Nice n Naughty does not disappoint in this (or any other) area. If the Lelo or Tenga brands of vibrating toys are sometimes out of reach then head over to the sale area first, where there are massive reductions on these brands alongside many others. The Lelo Oden rechargeable vibrating couples ring for example is at over 50% off, retailing normally at £104.99 its currently on sale at £50, so get it while you can because at prices like that it won't be around for long. Free batteries are also included with every toy that requires them, so your toy is all ready to go once it is unwrapped and no scrabbling around for batteries to get the party going.
Price Match Guarantee
But if there's something we love more than a sale it's a Price Match Guarantee and Nice n Naughty offer all customers a 7 day window, whereby if you find the same product being offered online at a lower price they will refund you 100% of the difference. To claim against the price match guarantee there is a process involved, so make sure you fully read the terms and conditions before making your request.
Delivery and Returns
The icing on an otherwise perfectly seductive cake is the free UK delivery and free UK returns, no minimum order amount; so order as little or as much as you like and it doesn't cost anything. If there is a fault or you merely dislike the item (which I highly doubt) then returns are free and easy to do. You also have the choice if you live near to one of their many stores across the uk to have your items delivered to store so you can pick it up from there, although be warned if you go to the store for pick up you may end up spending more than you planned, once you see all the gorgeous things on display. If you're wanting to return an item, you have a year from the day that you purchased it as long as it's unused. There are limitations on returns, for instance books are only returnable if there are printing errors, so again do make sure you read all the terms and conditions before purchase.
Social Media
Nice n Naughty has a very visible online presence, because aside from its website you can find them on Facebook, Twitter and Pinterest, where you will find nice and naughty deals, online offer's and even recruitment drives. On the website there is a blog section bringing you all the news and information relating to the sex toy industry and to Nice n Naughty's new additions such as the rock band Motorhead's new vibrator range. It doesn't stop there though because if you go to the help section and scroll down to the advice about sex and toys section, you will find very interesting articles on all things naughty including advice on how to talk dirty, to have a sensual bath, how to have threesomes or watching porn as a couple. So if there is anything you wanted to know and where too afraid to ask then head on over, you won't be disappointed.
Payment Methods
Payments are easy to process and Nice n Naughty accept all major UK credit and debit cards, plus PayPal. Not only is the company discreet with delivery it's also discreet with your payments. Any payment you make will show on your statement as 3N Trading ensuring your deepest darkest desires do not become common knowledge.
Nice n Naughty Wishlist
There is a wishlist as well on Nice n Naughty, so once you have treated yourself and you find there is still more that you want add it to the wishlist and send it over to your partner; your friends or whomever you choose. You do need to be a member to be able to access the wish list, however membership is free and once joined you will receive newsletters informing you of special offers and deals straight to your inbox.
Reviewing your Sex Products
Now if all the above wasn't enough to have you scrambling to the site and frantically adding items to your basket, just wait one more moment my friends because Nice n Naughty have gone the full mile to provide the best service they can possibly offer. Once you have bought an item and have had enough time to try it out, then you need to make sure you head back to the site and log on so you can leave a review. Why I hear you ask, well aside from helping others head in the right direction, you will also receive an email with a 15% off discount code to use on your next order; can I hear a Hallelujah. Now it's easier to receive the code if you are a member (and remember joining is free), however if for some reason you haven't joined and still want to benefit just leave your review and then email the customer services team to let them know and they will send it to you.
What does Sexy Time Toy Zone think:
So that brings us to the end of our whirlwind tour of the wonderful Nice n Naughty, we hope you have enjoyed reading it as much as we have enjoyed reviewing it. Has it made your list of sites to visit? I know it's made ours. It felt so easy skimming through the varied sections, even down to the bits that normally would make us blush (though there isn't much left that does). The fact that they understand the needs of each person's different tastes and embrace them arms open wide, makes you feel right at home. Let's not forget the fact that they also reward their customers by giving you discount for simply reviewing an item that you have bought. Well until next time my lovely readers have a naughty night, a dirty day and a wicked weekend whatever you are doing.
Promotions and offers subject to change, please ensure you check out the terms and conditions before you order.