Here is another great Sexy Time Toy Zone review of some of the best Sex Toy Starter Kits we could find. Starter kits are a great addition to any sex toy stash, whether you are single, a couple, a triple or more. With some kits containing a variety of vibrators, whilst others lean towards bondage. You can bet we have something here for everyone, including every taste and every pocket.
Best Sex Toy Starter Kits!
Most people at some point in their lives have a quick foray into the world of sex toys. Whether it is a discreet cock ring, or a stylish mini vibe to be with the in crowd; or simply because they just don't know where to start; or where to buy. So, they decide to go with the flow and take the first thing that pops up.  We at Sexy Time Toy Zone want to stop this kind of sex toy purchasing, as they will more than likely wind up unused in a drawer. So we have this list of awesome starter kits that will keep you up all night and coming back for more, more, more.
Budget Starter Kit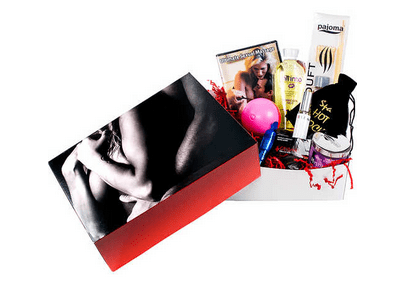 Now, we all know that the best way to get a night going is with a bit of foreplay. So without further ado we introduce you to the Erotic Massage Start Kit from the delightful Shop Naughty. This kit contains a great selection of items including massage oil, a DVD, sex toy massagers and so much more. Perfect for setting up a lusty night in and at just £35.95 it is an absolute bargain.
Couples Sex Toy Kit
Our next superstar is the amazing Sexploration Mega Couples Kit, from the team over at Lovehoney.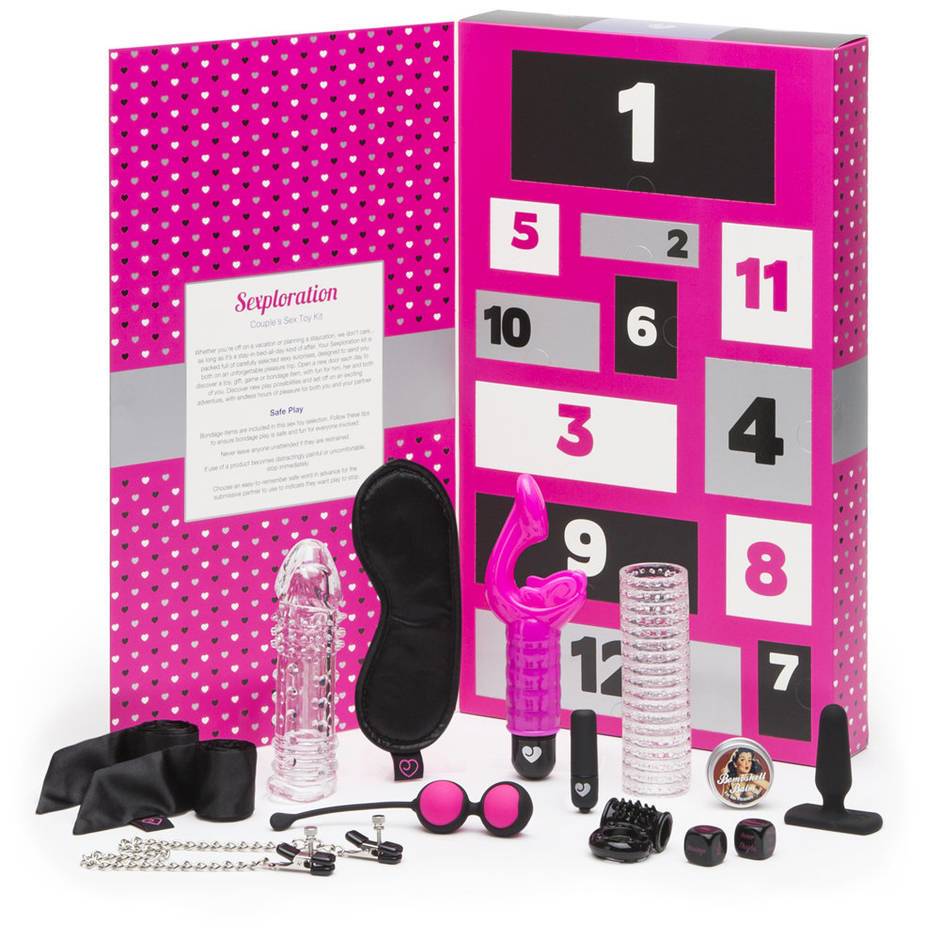 It looks like a mini advent calendar so would make a great Christmas gift, as well as throughout the whole year. This kit has a mix of great sex toys for couples and lighter bondage items to really get you going. With items including a mini butterfly vibrator, a vibrating cock ring (with removable bullet vibe), cock sleeves, tingle balm for her, nipple clamp, silk restraints, mask and even a set of cards to get you sexploring each other's bodies. This kit goes above and beyond the term sex toy starter kits, as this would be a great addition to anyone's sex drawers. So, head on over to the Lovehoney site and grab yourself this awesome treat for a mere £60.
Ultimate Sex Toy Kit
Red is the colour of love so they say, but over at Lovehoney it is the colour of lust. Their fantastic sex toys starter kit is called the Red Roses Lovers kit and is packed with lots of goodies for you to enjoy. With sex toys including anal beads, love eggs, butt plugs, cock rings, sleeves, a dildo and one of the best sex toys for men; to name but a few of the items. This kit is coming in at just £53, for the number of items you are getting we advise grabbing it quickly; with both hands.
BDSM Sex Kit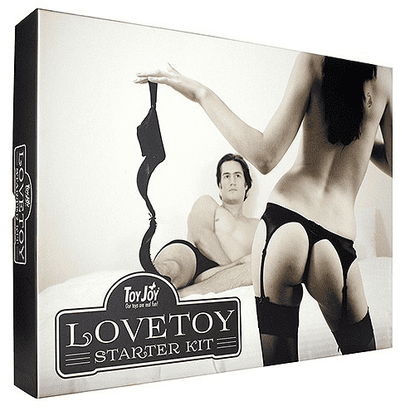 The next item comes from the team at With a Passion, with their offering of the Toy Joy LoveToy Starter Kit. This actually got us a little over excited and it's gone on a few of our wish lists. With its almost 50 shades inspired theme, the kit includes nipple clamps, wrist cuffs, cock sleeve, butt plug, love balls, vibrating cock ring, a vibrator, a vibrating love egg, blindfold and a feather tickler. Everything you need for a night of debauchery at the hands of your lover, or hands of lovers depending how you like your nights to go. This kit has it all and we love the addition of the mask, restraints and the feather tickler too, all for the price of £44.95.
Vibrator Kits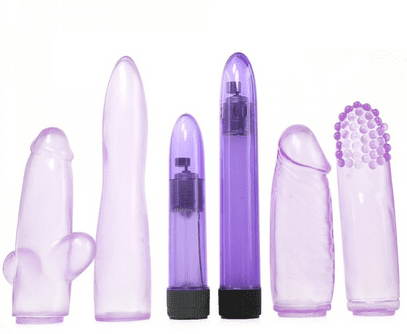 When it comes to choosing which vibrator to buy, the question is always where to start. How big should you go, should you go for a hard vibe or a soft feeling one? Well, to ease away your worries the team at Simply Pleasure have got the perfect vibrator starter kit for you, with the Lavender Vibe Kit. This awesome starter kit comes with two different sized multi speed vibrators. It also has one additional jelly sleeve for the larger vibe and three additional sleeves for the smaller vibe.  Not only will you enjoy a variety of sensations, shapes and sizes to really play around with, you'll get to know what works for you and what doesn't all for £29.95.
Summary
As far as sex toy starter kits go, we think we have some pretty great deals laid out bare for you. Don't forget that whatever site you purchase from, they may have additional deals and savings; so be sure to have a good old look around. Whilst you are purchasing your sex toys be sure to add in your batteries and sex toy cleaners, as this will guarantee your toys have a long and happy life.
Most of these sites have deals on shipping, but you can be sure that your privacy is guaranteed with each of them. Payments can be made via credit or debit cards and even in some cases via PayPal too.
Well, at Sex Time Toy Zone we've had a great time researching these sex toy starter kits, we hope you've enjoyed the ride too. We always love to hear from our readers about their purchases and experiences; so please let us know if you do purchase any of the kits we have featured here today.
Prices, promotions and offers subject to change, please ensure you check out the terms and conditions before you order.