Sexy Time Toy Zone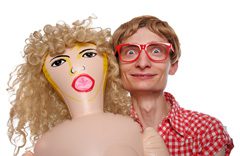 are here to explore the world of male sex toys and more importantly the technological advancements made to sex dolls.
The male sex toy industry has exploded over the last few years, no pun intended, with the launch of portable male masturbators; even themed toys linked to your favourite porn star or movie, Avatar Fleshlight anyone?
But for many that think of male sex toys, you always think of the good old sex doll; a staple joke of male embarrassment in a number of mainstream movies.
Brief History on Sex Dolls
What you may not realise is that sex dolls have been recorded back as far as the seventeenth century and manufactured from around 1908. There's even rumours that dolls were used for sexual release during World War II by soldiers; you never saw that in Saving Private Ryan.
With such improvements in technology and the types of materials available, you'd think the sex doll and its puncture repair kit would be obsolete; but you'd be wrong!
Many of the leading sex toy companies still sell a range of sex dolls. But rather than the original vinyl material which is inflated by air and barely resembles a person. You now have a range of materials such as silicon and thermoplastic elastomer, creating more lifelike textures both inside and out.
Of course the best way for us to tell you all about the development of the sex doll industry is by bringing you the latest, best-selling versions out there and where you can find them!
1,
Chantal Summae Love Doll with Dreamy 3D Face at Simply Pleasure
Let's start with a doll that has a look of the old style many of us are used to, from the amazing team over at Simply Pleasure. Already succumbed to your sexual prowess, Chantal Summae is on her knees ready to please you. This PVC doll has curves for miles and her light blonde hair and 3D thermoplastic face, give her a realistic look to add to the excitement.
What makes this doll even better is the fact that she has a multi-speed vibrating bullet, which will enhance your sensations. There are two holes and voluptuous breasts to enjoy, as you fulfil your greatest desires.
If you don't want to step too far away from the sex dolls you know and love, this one is ideal. Chantal will give you a taste of the delights you can enjoy and she's at the lower end of the price scale.
Pipedream Extreme are known for their amazing sex dolls and they haven't failed us, with the F* me Silly 2 Mega Masturbator. This doll is again made of thermoplastic rubber and unlike the normal inflatable options is solid and as such offers a level of realism, that you can't find in other versions.
It is on the higher price range being over two hundred pounds, but she has killer 36DD breasts which you can enjoy to your hearts content. Her vagina is incredibly tight which will enhance your orgasm and you can watch the FREE zero tolerance DVD which comes with the doll.
As to whether this type of sex doll is for you is dependent on whether you like the more solid feel underneath you, or if you prefer the full body of the inflatable dolls. Either way this one will certainly take you to heaven and back; over and over again!
Most of you will know about twerking and the huge celebrities such as Miley Cyrus, who have made it the fantasy of most red blooded men. Well now you can enjoy this life sized butt with vagina and ass holes, which can be connected to an app and pretty much blow your mind!
Again this is on the higher end of the price range at over four hundred pounds, but within her ribbed holes you'll enjoy stimulating sensations due to the 6 vibration speeds. There's also 6 intense massage speeds to experience the real feel of a woman tensing and clenching around your cock. Of course it wouldn't be a twerking butt without some real shaking booty movements.
For the music fans you can even download the app on Apple or Android devices, so you can enjoy your own tunes as you bang away. The Cyberskin comes with lubricant, renew powder, a cleaning hose and storage bag for easy use and simple clean-up and aftercare.
Hopefully these divine dolls have whet your appetite for more, so make sure you keep an eye out for our sensational special reviews for the best toys around. You can also find out the latest offers and promotions on our Twitter page, or by signing up to our newsletter.
We're certain that you've seen sex dolls in a whole new light, but remember to ensure you have the essentials to keep your little lady clean for next time!
Promotions and offers subject to change, please ensure you check out the terms and conditions before you order.