Sexy Time Toy Zone hope you are well and sitting comfortably for our next review, because this time we are entering the silky smooth depths of Sex Shop 365.
This website is fresh and funky and they boast the largest selection of sex toys in the UK; bet you're impressed! Sex Shop 365 is the flagship site of parent company IdwebLimited, set up in 2000 it has fast become one of the UK's leading sex toy sites.
So what can we expect from the lovely folks over at Sex Shop 365; aside from their very generous boast of having the largest selection of sex toys. There is a very generous 1 year guarantee, with additional freebies such as free batteries and gifts at certain spend levels. So let's get down and dirty and see what makes this website top of the shops.
What can you expect from Sex Shop 365;
Sextoys (largest selection in the UK),

Lingerie, fetish wear, men's and womenswear,

Bondage section, gifts, media and specialty items,

Free delivery and returns,

Price match option,

Free gifts and batteries,

Sale and Loyalty points,

Community section offering blogs, reviews and videos,

Newsletter and social media presence,

Multiple payment options.
What Does the Site Look Like?
The first thing that is satisfying about Sex Shop 365 is its clean and fresh pages, which makes the perusal of the site and purchasing so much easier and stress free. From their homepage you can easily find your way around via the links at the top, plus the banner underneath highlights all the amazing options available. When you add in the fact that the sidebar splits the sections into categories for a more specific search, then you'll begin to see why we love it!
What's the Range Like?
Where to begin with the vast range of toys available at Sex Shop 365; there is absolutely everything you could think of here and then some. Their wide selection of vibrators includes the famous rabbit style, the new and innovative Wand Massager, Real Feel as well as standard and jelly vibrators so there really is something for everyone. There's also a section for double penetration, so make sure you check out the subsections if you've got a special itch you're looking to scratch.
Sex Shop 365 doesn't just cover vibrators because where would be the fun in that? Oh no there is so much more including anal toys, dildo's and let's not forget the speciality section; this is our personal favourite. Here you will find the larger sex accessories, such as the sex in the shower range, pole dancing kits and for the girl or guy that has everything, the clone a willy / clone a pussy kits.
For the guys out there, the team at Sex Shop 365 have amassed quite the smorgasbord of delights for you to indulge yourselves. From Fleshlights to cock sleeves, penis enlargers to pumps and then we have the Real Feel sex dolls, vaginas and butts. You certainly won't be bored even if you were to order one item a week, every week for a long time; so best get started (well wait until you have finished reading this at least).
Are you worn out already? Well best get your second wind, because now we're going to delve into the lingerie.
Hands up girls (and guys) if your lingerie drawer needs a bit of fresh lace, PVC or leather; well once again Sex Shop 365 do not disappoint. There is literally something for every taste here, be it tame or super wild from size zero to plus size. Then add in the choice of baby dolls, bodysuits and Basques to fantasy outfits, suspender sets and the new C String range, then your heads will be whirling just like ours!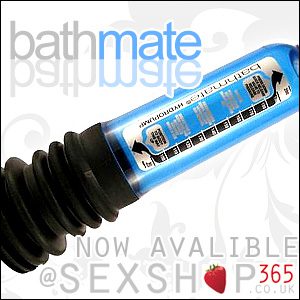 We at Sexy Time Toy Zone are in awe of what the team has put together but it doesn't end here, because their extensive range of fetish wear for the more intrepid fantasy player is available; including the best PVC and leather treats you can want. Once again let's not forget the guys, because roleplay and fantasy wear is for them too. There is a range of thongs, pouches, fantasy outfits (including a scrummy waiter set) and much much more.
Now for those of you sat there thinking, well this is all great but what about those of us that like to live life a little closer to the edge and want to take our experimentation that little bit further? Well then we say worry not, for just as the team at Sex Shop 365 boasted the largest selection of sex toys in the UK, they also boast that they have the best and largest range of BDSM/ Fetish gear; which puts the cherry on an otherwise delectable cake.
Sex Shop 365 have stated that they have personally picked a range of products to include items that other UK stores won't stock, such as specialist toys for the more experienced among you; making sure they cater for all tastes. Their range consists of many brands such as the Asylum range, House of Eros, Manbound and Fetish Fantasy Series to name but a few. For those of you that want to tread a darker path there is the Extreme Fetish section which includes lots of very interesting machinery, electrosex equipment, medical fetish and much more.
Now we don't know about you but after all that viewing of seriously hard core sex toys and machines, we're ready for something a little softer. Sex Shop 365 offer a great gifts and media section, where you will find the finer things to put the finesse into your evening such as rose petals, bath salts or body paint.
If you're looking for a sexy game to spice up your love life or as Christmas gifts for those kinky friends, then once again SexShop365 has your back. From 50 shades of naughtiness to monogamy or Lust, there is a board game here to suit you, your friends even your next door neighbour. Now ladies, we all know most women prefer a good naughty read to a full on porn movie (sorry guys its true), so make sure you check out the books and mags section. There are lots of lovely titles just waiting for you to delve inside and if you haven't already bought the book and read it from cover to cover, they have the bestselling fifty shades of grey on offer at just £1.95; so if you were wondering what all the hype was about why don't you grab a copy and see.
Fancy a Bargain?
Now onto our favourite part, the sales and offers. We at Sexy Time Toy Zone LOVE a good bargain and Sex Shop 365 is chockablock full of deals and savings. The 60% off section includes a clearance sale for sex toys, bondage items, lingerie, accessories and games; so be sure to check in here before you checkout for any last minute bargains.
Types of Delivery Available
After checking out the numerous delights on offer, I'm sure you have an overly full basket by now (as do we), so you'll be happy to hear that for orders over £20 you get free mainland UK delivery (yay). Plus if you're not going to be in you can request to have your parcel delivered to work worry free, as all packaging is discreet and this means no having to traipse to the sorting office after work or on the weekend.
Delivery is usually 1-3 working days so if you were to order by 4pm on a Monday (orders are dispatched same day before 4pm) then your order will arrive no later than Thursday. We love the fact that there isn't a long wait time, however if this is not quick enough for you then you do have the option to choose overnight delivery for an additional fee. Make sure you read all instructions on the site if selecting this option.
Returns Policy
Sex Shop 365 also offers a no fuss returns policy where you can exchange unused and unopened goods, within a 30 day period for alternate items or a refund. If you are returning an item due to a fault or as a result of a mistake on Sex Shop 365's part, then you will receive a freepost returns label. If it is as a result of you changing your mind for any reason the returns is at your own expense, so please ensure you are 100% happy with your purchase before completing on the site.
Packaging
All items are securely packaged with great care and discretion, so if you are having the goods delivered to your home or your workplace no one will be any the wiser as to what has arrived.
Freebies and Loyalty Scheme
So hands up who would like some freebies; I thought so.
Sex Shop 365 offers first and foremost free batteries with all sex toys that require them, so when your package arrives there is no need to go running around looking for batteries; which is a bonus. If you order over £45 worth of goods you get to choose from a very extensive list of free gifts, including anal beads, vibrators, butt plugs and more. If you spend over £75 you get to choose not one but two free gifts from the list and if that is not enough, for every purchase you make you receive loyalty points; 1 point for every £1 spent. You can then redeem your points for more free stuff; 100 points will get you a water bunny vibrator, 150 points will get you the Diana Stretch Love Doll. So the more you spend the more you are rewarded, what are you waiting for?
Price Matching
Sex Shop 365 offer something most other sites do not, price matching. If you find one of Sex Shop 365's products cheaper from any other UK retailer (Ebay/Amazon or any other auction sites not included), then you need to let the team know at the point of order and they will not only beat the price by £1, but they will also send you a bottle of lube worth £3.99 free of charge.
Sex Shop 365 prides itself on being the best so they check their prices against their competitors every week, but should one slip by they are more than willing to price match for their customers. Please make sure you check the qualifications required for the price match to be accepted, prior to sending the details.
Social Media
Sex Shop 365 has a great online presence with social media through Facebook, Twitter, YouTube and Google+ so add, like or friend to make sure you are catching the on trend videos, new product launches, freebies or offers made available to customers via these avenues.
Community Section
When looking for hints or tips, these are not the only places to head too. On Sex Shop 365's own site they have a vibrant community and social section where you can see reviews, videos and blogs relating to all things naughty, with videos showing off the lingerie and toys, blogs and competitions. Make sure you get yourself added to the newsletter, for their special offers and new product lines.
Payment Methods
Finally and possibly the most important feature of the site is the payment options. All UK credit and debit cards are accepted on Sex Shop 365, including American Express; PayPal is also accepted making life much easier for you on the go purchasers.
Your credit or debit card statement will show your payments as IDWEB LTD to fully ensure your discretion, once again following through on the 100% discretion promise made on the homepage.
Customer Support
If you should have any questions from this point on or just simply would like to speak to someone on the Sex Shop 365 team (let's face it they seem to know their stuff), then you can call them on their customer service hotline 0800 018 4137; or email them using the direct link from the site. There's also the live help link situated at the top of the page.
So what does Sexy Time Toy Zone think?
We here at Sexy Time Toy Zone are quite simply flabbergasted, at the sheer amount of items that the team at Sex Shop 365 have managed to cram under one roof. The site is literally bursting at the seams with all things kinky and we have had an amazing time wandering through their pages.
The site is so easy to navigate, clear and concise with optional extras being offered and items to make sure you get the best out of every experience. Then there is the free gifts and loyalty points; the list of pro's far outweighs the cons. In fact we have just checked and there are no cons to this site, just a massive list of pro's! Take it from us this is no easy feat for a site to do, yet Sex Shop 365 has breezed through it all with ease.
Happy shopping readers until next time and make sure you let us know what you've been treating yourselves too, via our Twitter page!
Promotions and offers subject to change, please ensure you check out the terms and conditions before you order.