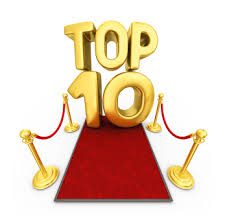 Here we are at the start of a great new year, we hope your exit of 2015 and entrance to 2016 went with a bang; we know ours did. As we are all tightening our belts after the Christmas splurge we decided to give you a bit of a go to list, for all things naughty on a budget. This list is something we Sexy Time Toy Zone have really enjoyed putting together for you, our lovely readers. We hope you enjoy perusing the bargain basement so to speak, because despite the fact that the toys on the list all cost less than £10, they don't lack in power or satisfaction.
So let's start with number 10 on the list and work our way down to the number one spot and see if we can't get your motors running.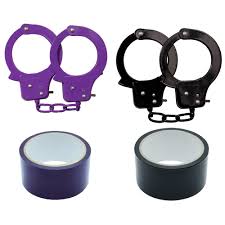 10) We have the saucy set of handcuffs with bondage tape from Simply Pleasure. If you are planning a night in on a budget, then this is a great way to start. Depriving your partner of the senses of touching you, will drive them crazy. Use the bondage tape to cover their eyes to create further sensory deprivation which will in turn, add more heat. This set is the perfect introduction to bdsm for beginners, or even if you're an old hand and just want to have the extras in stock for "emergencies"; if you catch our drift. The set is just £8.00 and you can even choose whether you have it in basic black or a luscious purple colour.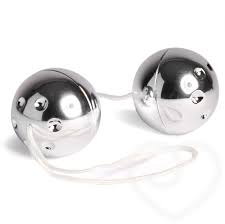 9) The Lovehoney Basics range have these fantastic Silver Jiggle Balls available and with multiple uses for this item, it will be one of the better buys you make. Not only can this be used to train your pelvic floor (yes boring we know), but when used for pleasure these saucy little devils will create an amazing sensation. At just £4.19 and on the 3 for £10 deal what more can you ask for in a starter or a budget item.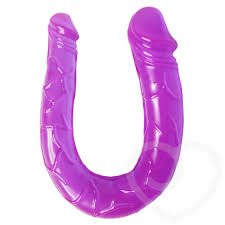 8) At number 8 we have the delicious double mini dildo from With a Passion. If double penetration is your thing or if you are simply wanting to try something new with your partner, then this is definitely something you want to add to your list. Fully flexible as is made from firm jelly rubber, with deep veins for added satisfaction. If you haven't tried this before and are looking to buy a budget item to start off with, at just £9.95 you can find this and other budget bargains here
So far readers we have covered something to tie you down with, something to keep you jiggling and a little something to keep you both entertained for quite some time; but we are not going to stop there. Not until we have flushes on both your cheeks and your breath hitching in your throat, so if you are ready we are going to move to number 7 on our top 10 budget toys countdown.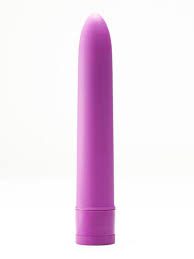 7) Now vibrators don't come much better than this little diva from Ann Summers. This sleek 7-inch vibe is going to get your senses tingling in all the right places. If you have ever heard the saying less is more, then link that to this vibe and you are not going to be sorry. This multi-speed vibrator has a smooth hard shaft with a rounded tip and control of the vibration settings from the base, gives you everything you need in one twist of your hand. The vibrator is only £8.00, what a bargain!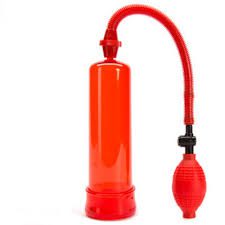 6) For those of you guys out there that feel the desire to be bigger and better, then this is a great introduction to enlargement toys. The Penis Enlarger from Lovehoney is a pump which creates a vacuum seal that causes the blood to rush to your member. This in turn gives you girth and length that you would not reach on your own and let's not forget the feelings that you will get once released from the pump and engaging with your partner. This toy is just £7.27 and will provide you with gains in length and girth that will please both parties.
We are at the halfway mark of our top 10 sex toys under £10 countdown and we here at Sexy Time Toy Zone are getting a little hot under the collar; how about you readers, happy so far? We'll take a look at the next five items because we're sure you will be grinning from ear to ear, so let's continue with our countdown with a rather frisky number 5.
5) The Nice N Naughty Anal Fun kit is a must have in any budget toy chest. The team at Nice n Naughty have put together a great budget kit for anyone wanting to test the waters of anal play, without it costing too much. The kit includes an anal vibrator, a set of anal beads increasing in size and anal lubricant, everything you need to get started; or even as a nifty little teaser addition to your home toy chest. At just £8.99 for two starter toys and lubricant this anal toy kit is certain to tickle your fancy.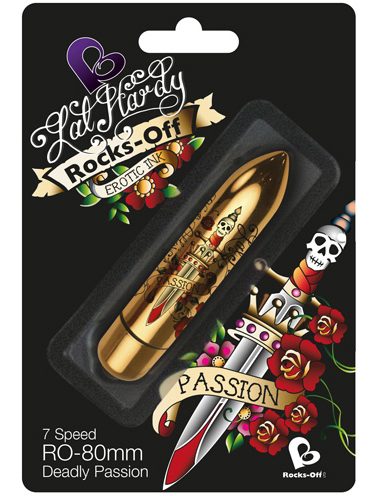 4) At number 4 we have this Ed Hardy Inspired Rocks Off vibrator, from the team at Lovehoney. This mini vibe is small but deadly and aptly named Deadly Passion. With its funky tattoo graphics embossed onto the golden casing, this vibrator was not meant to be hidden away. This mini vibe is only £8.49 but packs a punch and is a must for any toy collection.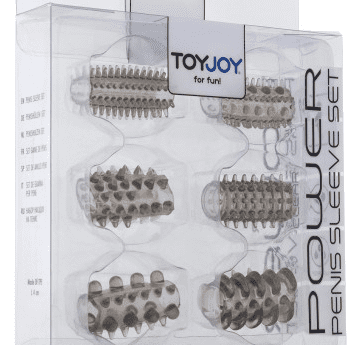 3) At 3 we have the Toy Joy Manpower Penis Sleeve Set from Oscuro. This set of 6 stretchy sleeves have been designed for dual pleasure. Each sleeve is super flexible and covered in different textures and nodules, to ensure satisfaction for him and for her when in use. This fantastic set of sleeves is only £7.95 and once you have added this to your collection, you will wonder why you never started with them.
So readers have you had your fill yet, have we managed to pique your interest and your heart rate? Well wait just a few more paragraphs and if we haven't had you reaching for the sales buttons on these sites to fill up your bottom draw with bargains, then our work is not finished. So here we go down to the top 2 sex toys for under £10 and we here at Sexy Time Toy Zone love these final items a little too much.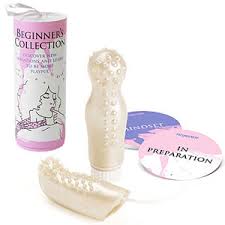 2) At number 2 we have the Nooki Toy beginner's collection from the guys over at Sex Shop 365. This set is a must have for all budget buyers or beginners. The kit includes a waterproof vibrator, a vibrating finger sleeve, a do not disturb sign and a set of instruction cards. This kit is a snip at just £9.98 and a great way to start any collection off with two excellent vibrating toys.
Finally at number one we have an amazing twist on a very popular sex toy. The Doxy Massager is a great vibrator to be used on him and her alike, but it's not always in the price range that most can afford; or even want to spend on if unsure.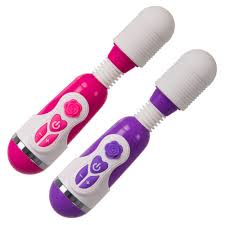 1) So here we have our number 1 sex toy for under £10, the Ultra 10 Speed Vibrating Midi Wand from Bondara. This is Bondaras take on the Doxy Massager and it certainly fights its own corner. This massager has several settings and 10 speed options so you can take it nice and slow or fast and hard, whatever takes your fancy. This massager is unisex and can create stimulating experiences for both him and her; plus at just £9.99 it really is the best buy of the top ten countdown.
So what does Sexy Time Toy Zone think?
So there we have it readers, we hope we have given you a little food for thought as to where to begin your budget collection, or even a few ideas on how to extend the collection you already have. No matter what you do, whether you take one thing from this list or all ten (all ten are already on our baskets here at Sexy Time Toy Zone, especially the Ed Hardy mini vibe; we really loved that one). Make sure you check out all that our fabulous sites have to offer, as once you open Pandora's box there is no going back and you will love every minute of it.
Promotions and offers subject to change, please ensure you check out the terms and conditions before you order.