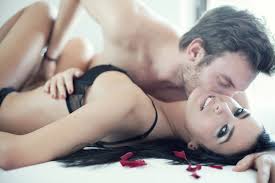 Well Sexy Time Toy Zone readers it's that time of year again where we all proclaim our undying love (or lust), for those we hold near and dear to our heart. The time of year where the less romantic of us usually step up to the plate and the plain old vanilla types, like to kink it up for that one special day.
Whatever your plans for Valentine 's Day make sure you check out what the best of the web can offer you, before making your final arrangements. To make things even easier we here at Sexy Time Toy Zone have included some of our favourite lingerie, fantasy wear, sex toys and gifts, to make sure that your evening ends with a bang (one way or the other). So grab a drink, sit back and relax while we take you on a personal shopping spree with a twist.
Setting the Scene
Setting the scene is always difficult for that special night, because you need the right lighting and music. The accessories we have below however will all add to the spice of the night.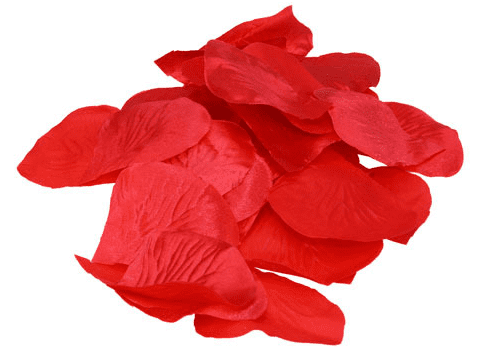 The faux red rose petals that are currently on offer over at the yummy Bondara on 3 for 2, are just £9.99 per pack and are ideal for laying a trail for your lover; or for simply spreading over the bed/floor/bath. Reusable and a great scene setter you will not want to miss out on these.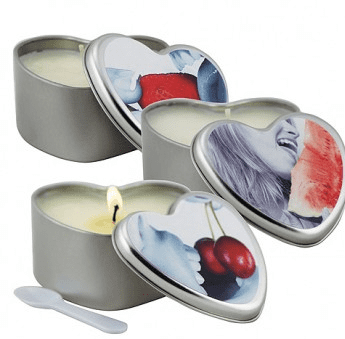 Once you have dimmed the lights and set your rose petals in place, why not add a few sultry massage candles here and there? This set from the guys over at With a Passion will have you crying out for more, the 3 in 1 edible massage candles in three yummy flavours, help you lick and rub each other in all the right places. At just £9.95 grab yourself a few extra, for future naughty nights in!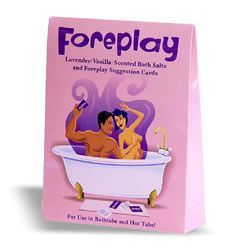 Last thing on our setting the scene list, is this fabulous item from the team over at SexShop365. Now what sets the scene better than a seductive bubble bath for two, with rose petals lining the sides, candles dotted around and a lovely glass or two of bubbly? Well guys and gals here we have a set of bath salts from Sexshop365 that are very aptly named Foreplay, Passion and Sensuality. These salts are just £6.00 each and come complete with activity cards, for you and your partner to enjoy whilst bathing.
Sexy Games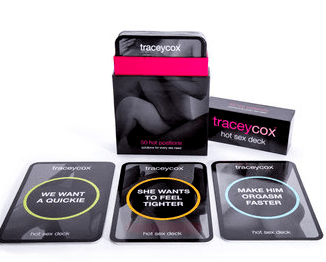 If sexy games are on the cards for your special night in, then do we have all the bases covered. Why not start with the Tracy Cox Supersex Position Card Set, from the team at Lovehoney. This great little item is sure to spice up your night tackling various scenarios, from the we want a challenge, make him last longer or we want a quickie. This deck of cards is a great way to kick-start your evening at just £12.99, or take advantage of the 2 for £20 offer that this item is part of.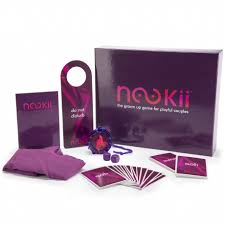 If card games aren't your thing, then definitely look into the Nooki game from Simply Pleasure, which is bound to tickle your fancy in ways you've never tried before. The game is coming in at just £26.95, which we think is a bargain for all the thrills you will be getting once you crack open the box. The game itself has three levels and rather than play on the board, you will be playing with each other. Encouraging you to interact with your partner in ways you never imagined, this game will certainly put the O in your oh my god.
Lingerie
So far we have covered scene setting and game play, so what else can you possibly need for an amazing valentine's night in together. Well let's not forget the outfits, as these are the pinnacle of your night. There's no point chucking a few rose petals and candles round and then being stood there in your onesie; it just won't work.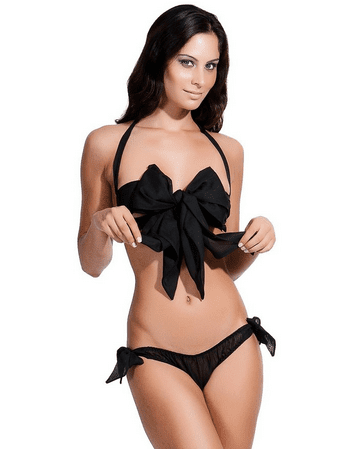 But fear not lovely readers we are here to help out with any wardrobe malfunctions. So firstly the ladies, we love to tease and let's face it that's half the fun isn't it, so why not wrap yourself in this little number from Bluebella. The Ariana Chiffon tie set has four wide ribbons of black mesh that can be wrapped round your bust in a playful bow, or for something a little darker as restraints on your wrists. It is a complete set and the briefs have tie up sides too for that little extra ooh la la and at just £28, going from an 8 – 18 this is a set that will please all.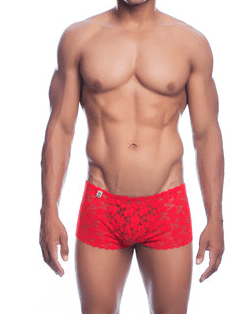 For you men out there wanting to show your partner your true Valentine's colours, try these Men's Red Lace Boyshort from Lovehoney at £17.99. They are a great buy as not only will these shorts enhance your 'valentines gift' with its contour hugging pouch, you also get a free heart shaped warming massager with this purchase. Plus if you purchase above £20 on men's underwear you get free condoms too, so the team at Lovehoney are doing all they can to make valentines a night to remember.
Sex Toys
What valentine's night in isn't complete with a bit of toy play, or a nice sensuous massage. We haven't forgotten the best bits here at Sexy Time Toy Zone; we just saved them for last.
Valentines night is all about the couples play, be it a bit of fifty shades inspired bdsm or some light and flirty massage and vibe play; don't worry our sites have got you covered. But here is just a couple of the favourites hitting many wish lists.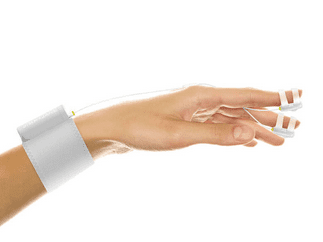 The JimmyJane Hello Touch is an inspired addition to any valentine's night box, it's a wearable vibrator for your hands turning your fingers into individual mini vibes that can be used on him or her. This amazing toy can be found over at Uberkinky and is just £45; trust us you will want to be adding this to your set. The Hello Touch has been copied but usually with only one finger vibe and is always quite noisy and chunky. These individual silicone pods attach to your fingers from the band at the wrist and are quiet and waterproof, taking your toy play easily from the bedroom to the bathroom.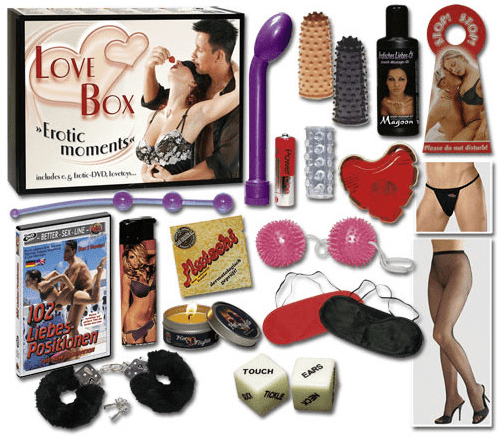 If you want the ultimate sexy night in toys, then look no further than one of our favourite sets from Bondara; the amazing Ultimate Love Box. This sex toy kit has got everything you will need for your naughty night in and then some. At £29.99 you will wonder if they got the price right when this arrives. The kit contains a dvd, scented candle, love dice, bath foam, 2 blindfolds, lubricant and massage oils, a set of handcuffs, a vibrator, love eggs, anal beads, studded cock ring, 2 chinese lust fingers, a thong for him and a pair of mesh tights for her and a do not disturb sign for your bedroom/hotel door. Seriously if you bought nothing else for valentines except this kit you are still gonna have a great night, as all the bases have been covered in one exciting box.
So we are off to fill our baskets with some lovely goodies, from our favourite online retailers. We hope your valentine's night goes with a bang whatever or whoever you end up doing (pardon the pun). We will be back soon with more tantalising reviews and to do lists so watch this space. Until then have a wonderful valentine's weekend and above all enjoy yourselves.
Promotions and offers subject to change, please ensure you check out the terms and conditions before you order.