Sexy Time Toy Zone have a fabulous site review for you today from the team over at Vibrators.com. Vibrators.com is ran by PriveCo which started as a small business in 1998 and has grown in strength, owning a variety of websites. Vibrators.com has been operational for just over 10 years and has rapidly grown to become hugely successful in all things that buzz.
When you click onto the site you are hit with the poster girls, which is a very retro way of advertising. These pin up / poster girls were the epitome of sex in their time and still to this day, offer a hint of kink whilst being fun and flirtatious all in one go. This in itself was enough to draw us in and once there we were reluctant to leave. We even bookmarked Vibrators.com on our site map, so we can find our way back any time, any day.  So what else does the site have to offer other than eye catching retro graphics?
Summary of Vibrators.com;
Vibrator School,

First Time Buyer advice,

Free Erotica,

Free Gifts,

Clearance Offers,

Multiple Payment Options,

Multiple Privacy / Shipping Options,

Alternative Returns Policy.
Look of the Site
So let's check this site out in a little more detail shall we guys and gals?  The first thing we see when we get to the home page is the amazing graphics, leading your eyes to every nook and cranny on the screen.  The menu bar across the top is split into 5 categories; a Suggestion Section, the Most Popular Vibrator, Choose the Best, Vibrator School and the First Time Buyer section.
Range of Vibes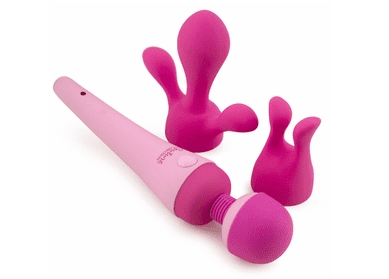 Having had a little mooch about the pages, we found a few interesting takes on the usual vibrator styles that we had to share with you.  The Pink Inspire Vibrator is a wand style vibe and comes with two interestingly shaped silicone interchangeable heads. Each head has a different use, the main head being a clitoral stimulator, one being an insertable vibe and one being more geared towards stimulating the labia as well as the clitoris.  Scoring an 'Unrelenting' in the Vibrators.com measuring board and 'Hum' on the sound levels, this vibrator is a good all-rounder and at $84.99 (£64.99 GBP) it's a great price too
We couldn't leave this section without telling you about this amazing yet quirky mini vibe that we found and love.  We finally have the answer to the age old question, what do you buy the girl that has everything??  You buy her the Ice Cream Vibrator Mini Keychain Vibe; yes you heard us, a vibrator on a key ring. Just when you think they can't think of anything else that can be turned into a vibe (we have had necklaces, rubber duckies to name but a few) they go and do it again.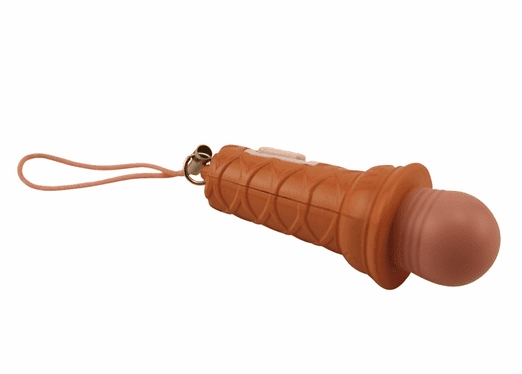 We here at Sexy Time Toy Zone will be ordering a few of these to go in the staff's Christmas goody bags, because let's face it this is an awesome stocking filler.  To be fair, when you get it out of the packaging and look close up it barely passes for an ice-cream. However dangling off your keys in your handbag no one is any the wiser and this key ring is with you 24/7, to help you get your motor running whenever the need may take you.  It rates as 'Gentle' on the vibrators measuring board so doesn't give you much oomph but it will certainly help get you in the mood.  It's cute, portable and only $14.99 (£11.46 GBP) so we think it's definitely a favourite of ours.
That was just 2 of the 450 toys available throughout the sultry pages of the Vibrators.com website and let us tell you, there is a reason that the team pride themselves on what they sell as they really do seem to have picked out the best of the best.
Vibrator School
Now one of the other things that the team have done which we love, is the Vibrator School.  The Vibrator School is a one stop shop for all things Vibrators.  Here you will find links to pages that will teach you how to care for your vibrator, what types of lubricant to use and lots more. But our two favourite links are the short history of vibrators and the debunking of vibrator myths.
If like us you have a natural curiosity about most things, definitely give the History section a read as there is a 10% off code at the bottom.  There is also a quick guide to finding the right vibrator for you. So if you haven't used one before or are unsure which one to get next, make sure you stop here first to have a little helping hand in purchasing your little helping hand.
The First Time Section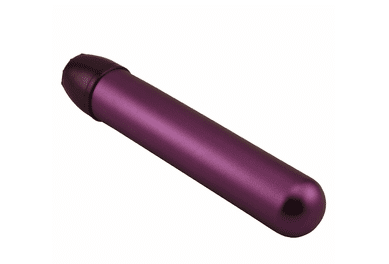 The First Time section is for all you novices out there, who are looking to pick out your very first vibrator. This section has a great range suitable for all wants and needs, so all you have to do is head over after you have read through the quick guide and then voila your decision is made a little easier.
For us here at Sexy Time Toy Zone, upon looking through the first time section, we actually found one or two interesting vibes that caught our eye; so we are going to share them with you in the hope it helps you out that little bit more.  Our first choice is this amazing self-heating vibe, appropriately named the Heat Wave Vibrator.  This vibe heats up to 124 degrees Fahrenheit giving a lovely warm sensation on top of its 'intense' vibrations settings; it's also waterproof and at $22.99 (£17.58 GBP) it's a steal.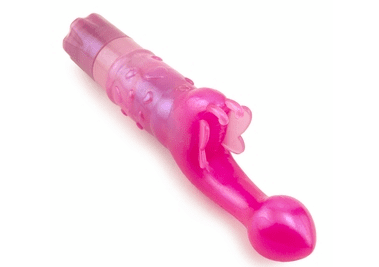 Our second choice was the Butterfly Kiss Vibrator; this vibe is fantastic.  Not only is it amazing on price at only $8.99 (£6.87 GBP) but it is multi-functional, as it stimulates the clitoris and g-spot all at the same time. This is due to the interesting design giving you internal and external stimulation, with the 3" insertable and 1.25" wide butterfly at the base for the external.  With three intensity levels this vibrator will not disappoint!
Freebies
Now if there is one thing we love aside from sales, its freebies and the team at Vibrators.com have not failed in this area.  So first off if you add the code 1-FREE-VIBE to your order, you will receive a free vibrator just for being a great customer.  If you order over $75 (£57.35 GBP) you receive a second free gift which is even better. To top it all off if you just fancy a free vibrator, there is an option for you to grab a nice little vibe; you just pay the $3.95 (£3.02 GBP) shipping fee.
Now let us tell you about the best bits of the freebies, the free erotica. We all know that men need visual stimulation, but for the ladies its mental stimuli that gets the motor running. The team at Vibrators.com have put together a veritable plethora of literary porn for the mind.  There are stories for every taste in the library and if you own a Kindle, Nook, iPad or other eReader, you are able to download Vibrator.com erotica collection from the kindle store. This means that you can have these tales on the go, whenever you are in need for a little adrenalin rush.
Clearance Section
The team at Vibrators.com have a great clearance process, in that when a vibrator comes in to the clearance section the price drops every month; so after month one you can save up to 50%, month two 60% and month three 70%. The idea being that the vibrators drop in price until they are sold.  The question is do you buy straight away or wait until the price drops and run the risk of your favourite toy selling out.  There are some great bargains in the clearance section currently, so make sure you head over and check them out before they are gone.
Shipping and Privacy
Shipping and privacy is a big deal for the team at Vibrators.com, as they would like you to receive your items as quickly as possible and as cheaply as possible. So they have developed a few different shipping options to suit every budget.  There is free shipping within the US only, but as they ship to different countries the costs have been kept as low as possible.  Shipping options start as low as $3.95 (£3.02 GBP) for your standard delivery, which will be approximately 14 working days running. There's also Express shipping which is $21.50 (£16.44 GBP) and means you should have your parcel within 2 working days.
Privacy is a big thing for the Vibrators.com team, being a part of Priveco which prides itself on being the world's most private company. There is the option to have your items double sealed, to prevent packaging getting torn and revealing anything inside.  For those of you wanting to be more eco-friendly there is a paperless shipping option, whereby your items will be placed inside the box with no other wrappings or protective materials; they really do cater for everyone at Vibrators.com.
Returns
Now returns is a big thing for anyone buying anything online and the team have taken a very different approach to returns, which we actually think is very refreshing.  The first point to be aware of is that unlike many other companies, Vibrator.com does not accept returns on any item purchased from them.  However and this is the refreshing bit, they have an amazing alternate policy in place to ensure you are 100% happy with your order. If you want to return your product due to not being happy with it or it not working to the best of its ability, then the team at Vibrators.com will send you another toy of similar or lesser value. There is a catch, make sure you choose your replacement product wisely as they will only send you one free replacement toy. Replacements are offered within 30 days of purchase, so make sure you are quick to contact if you are not 100% satisfied.
Banking
There is multiple payment options available including PayPal, American Express and all the usual debit and credit cards, making the purchase process as easy as possible for you.
So what does Sexy Time Toy Zone think?
We are in love! Seriously guys Vibrators.com is fabulous. It has sex toys, it has advice, it has free stuff and free erotica too. If you haven't already bookmarked this site, then you are out of your mind.  Yes as most of us reading these reviews live in the UK we will have to wait a little while for our items, but boy will it be worth it.  So head over there now guys, get clicking through until you find your perfect match. As ever please get in touch with us on Twitter and let us know your feelings on the sites we review and any purchases you have made, we love to hear from you all.
Promotions and offers subject to change, please ensure you check out the terms and conditions before you order.