Sexy Time Toy Zone have been taking a naughty peek into the windows of the UK's favourite high street and online adult retails store, yes you guessed it, Ann Summers.
The first Ann Summers store hit the British high street in 1993, changing the way the British public saw the adult retail industry forever. In 1999 www.annsummers.com was launched making it even easier for us to access the fabulous sex toy range, lingerie and vast range of erotic paraphernalia available. Ann Summers has a booming online presence, up to 7,000 home party planners (best girls night in EVER) and 145 stores across the UK and Ireland.
Summary of what you can find at Ann Summers:
Lots of Sales Items such as half price deals, bra's 2 for £30 and 3 gifts/games for £10.

Available on Facebook, Twitter, Pinterest, YouTube, Instagram and Google+ to tickle our fancies at every turn.

The 'Get Inspired' section has amazing guides and an amazing Competition section where currently you can win a holiday of a lifetime.

Pleasure Hub – Sexperts, Toy testers, Life Coaches and Sex toy merchandiser blogs, advice and guidance all at the click of a button.

Free standard delivery, free UK returns, Click and Collect option also available.

Easy access links to book a party, find out how to join as a party planner, sizing guides and purchase gift card.
The website sports a sleek and sexy look, it is easy to use and draws your eye to all the best bits with jaw dropping graphics. So to begin with let us take you through navigating the site, the top bar of the website splits the page into all relevant sections guiding you every step of the way. Whether you're a frequent visitor or brand new to the experiences, it's easy to browse at your leisure.
The Range of Adult Toys Available at Ann Summers
We love that you can move from corsets to massage oils to even dance poles in a few simple clicks. Your every fantasy is catered to by the Ann Summers team and if you're at a loss for inspiration check out the Dark Desires chapters, all the inspiration you need in a few clicks.
Ann Summers sells every kind of Sex toy imaginable from Bullets to Cock Rings, Rampant Rabbits to Strap-ons, Jiggle balls, Love beads and large Dildos. In all there are 196 toys of every shape, size and texture available. Mainly from the Ann Summers brand, but there are models from other well know manufacturers too; basically you'll never get bored.
The clothing available within the Ann Summers range is enough to tantalise your every need, with Lingerie for the brave and not so brave, cover ups and nearly not there's, there is something for everyone and the fact that the majority of the ranges extend to plus size, shows that Ann Summers understands that big is beautiful too.
Ann Summers Regular Offers
Let's not forget that we mentioned Sales earlier, oh yes we at Sexy Time Toy Zone love a good sale and with Ann Summers you get some great deals. Currently they are offering half price on the Noir Bullet which looks amazing, 3 for £10 on gifts and games, Buy One Get One Free on selected lines including Stockings (who doesn't love a good stocking). To top it off there is 2 Bra's for £30 and 2 Knickers for £12 or if you're really feeling like cranking it up you can take 2 naughty knickers for £16. If there's one thing Ann Summers does well it is to catch your attention, before you know it your basket will be full and you will be tingling with anticipation for your delivery.
Postage and Delivery
Delivery is free when you spend over £35 ( and trust us once you start adding things to the basket it is so easy to reach that total), however if you are a bit more reserved on your first foray then standard delivery will be £3.25 and using this method will usually arrive within 5 working days. There are other delivery options such as Express Delivery £5.95 (usually delivered next day where possible), Saturday Delivery service £9.95, first class £3.95 (within 3 working days) or Click and Collect which is free.
All parcels are wrapped and packaged discretely so when your box of tricks arrives, no one will guess your naughty little secrets. All orders are sent with a return address name of "Gold House Group" and not Ann Summers. Products are dispatched in bubble wrapped envelopes or a plain box, dependent upon the size of your order.
You are eligible for Free UK returns within 30 days of receipt for a refund or exchange and there is a FREEPOST form provided with every order. There are a few exceptions around returning used consumables so please make sure you read the FAQ's for more details
Banking Methods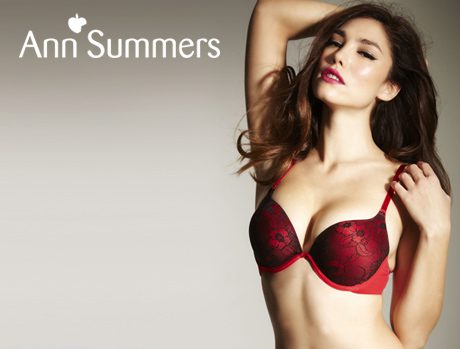 Ann Summers accept all major credit and debit cards including American Express, PayPal is also accepted. Any financial transactions will show on your statements as simply "AS Ltd" to save you any embarrassment.
Social Media
Ann Summers uses social media updates on products, user reviews and campaign announcements so be sure to sign up to all available avenues, Facebook, Twitter, Pinterest, YouTube, Instagram and even Google+, you will not miss a trick if your connected.
Once you have created an account (and let's face it with everything on offer you have probably already done so) you can choose your email preferences so you decide what gets sent to you via email.
If you're looking for help and advice the Get Inspired section gives you everything you need, but if you want more the pleasure hub is the place to go, there are blogs galore and sex guides giving you every possible hint and tip on how to spice it all up.
Ann Summers Gift Cards
Gift card are available and currently can only be spent in store, they are available in £10, £25, £50 and £100 denominations
Customer Support
If you have any queries, questions or complaints the team is on hand via a series of FAQ sections, Blogs, or a Contact Us page. You can also contact on the following 0333 440 6969 during normal working hours. Normal Opening Hours: Monday to Friday 08:00 – 20:00, Saturday 09:00 – 18:00, Sunday 09:30 – 18:00. Or if you wish to write in: Customer Services, Gold Group House, Godstone Road, Whyteleafe, Surrey CR3 0GG.
What do Sexy Time Toy Zone think:
Ann Summers has compiled what amounts to be a plethora of naughtiness all in one site, there is everything you could possibly require all within a few clicks. We love the fact that you can look at the how to guides and be redirected right to the products that were used. There are helpful hints when looking at items, as to what can be paired together to make your experience that little bit spicier.
If that's not enough then when you first sign up to Ann Summers you will receive a welcome email offering you a discount on your first order, currently at 10% and if you don't want to shop online you can print this off and take it with you to a store. Go get em tigers.
If you are new to the world of adult toys, our beginners guide to sex toys should help to point you in the right direction.
Promotions and offers subject to change, please ensure you check out the terms and conditions before you order.