We hope you are ready for this in-depth look at something we all should be adding to our collections. Bondage Tape is highly underrated as far as we at Sexy Time Toy Zone are concerned. Its about time that changed, so we bring you a beginners guide to bondage tape and all of the amazing things you can do with it; plus where you can buy it from.
Now, bondage tape is a great sex toy for couples to try if you are just starting out experimenting in the bedroom, or if you are an old hand at spicing things up. You can use Bondage Tape to tie up your partner, to create extreme fetish wear or to fashion harnesses or straps to position yourself or your partner in seductive ways. There has never been a more multi-functional sex toy than Bondage Tape and we want you to know all about it.
Beginners Guide to Bondage Tape – How to Use;
Some tape is reusable so after use, wipe clean and store back on its reel to ensure it doesn't wrinkle or twist.

Always apply the tape as flat to the body as possible, as this will minimise the risk of any loss of circulation to the extremities as it isn't cutting off the blood flow.

Do not pull the tape too tightly either as this is also a risk to the circulation. Once the tape is stretched it will revert back to its original size once released. Always ensure you have plenty of tape for what you have in mind.

If using to create clothing or costumes, work from bottom to top overlapping each layer as you go. This will ensure you have a snug, secure fit and eliminate any gaps that are not wanted.

Most tape can be unwound once it's been used and reused again and again, but it can be easily and swiftly removed by using scissors when required; and in some cases your teeth are sharp enough to tear the tape too.
So, you have your starter tips on how to use the tape, but how about where to use it? The joy of Bondage Tape is that you can take it anywhere with you. It can be used to tie your partner to the bed, a chair, the dining room table or even a tree if you like the idea of outdoor sex. The possibilities are endless where Bondage Tape is concerned. It's just as restrictive as rope and handcuffs, but a lot gentler on the body so definitely a must have for any sex toy collectors!
Where to buy Bondage Tape?
Our first product pick is the Tease Bondage Tape range from LoveHoney. The first thing we loved about this tape is that its available in a variety of colours including black, red and hot pink. The second thing we loved was the cost at just £6.99 for a 20-metre roll, it really is a bargain. Made of PVC and with a glue that adheres only to the tape (not to all those minuscule body hairs), it's a perfect option for everyone from beginner to dominatrix.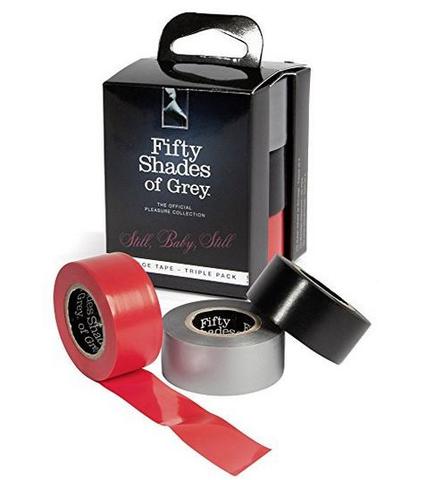 For our second product pick, we have embraced the fifty shades inspirations and nabbed the Still Baby Still Bondage Tape pack from Lovehoney. This pack comes with a set of 3 10 metre rolls in black, grey and red shades. It is all body safe and reusable PVC so it will not hurt as it is removed, but will still provide a versatile and secure play environment for all involved. It's very affordable as well at just £15 for the 30 metres.
The third product pick is an STTZ favourite and you can find it over at Ann Summers.
It is the Body Bondage Tape and is a must-have for anyone wanting bondage tape to use as clothing, or for full body domination.  It is 20 metres in length and is 30cm wide, which is perfect to wrap around the entire body if you want to have fuller coverage as opposed to just restraining hands or ankles. Again, as is the case with most Bondage Tape on the market, it is body safe and will only stick to itself not to the skin or to the furniture.
Our final pick is the tempting Fetish Fantasy Pleasure Bondage Tape available in Oscuro.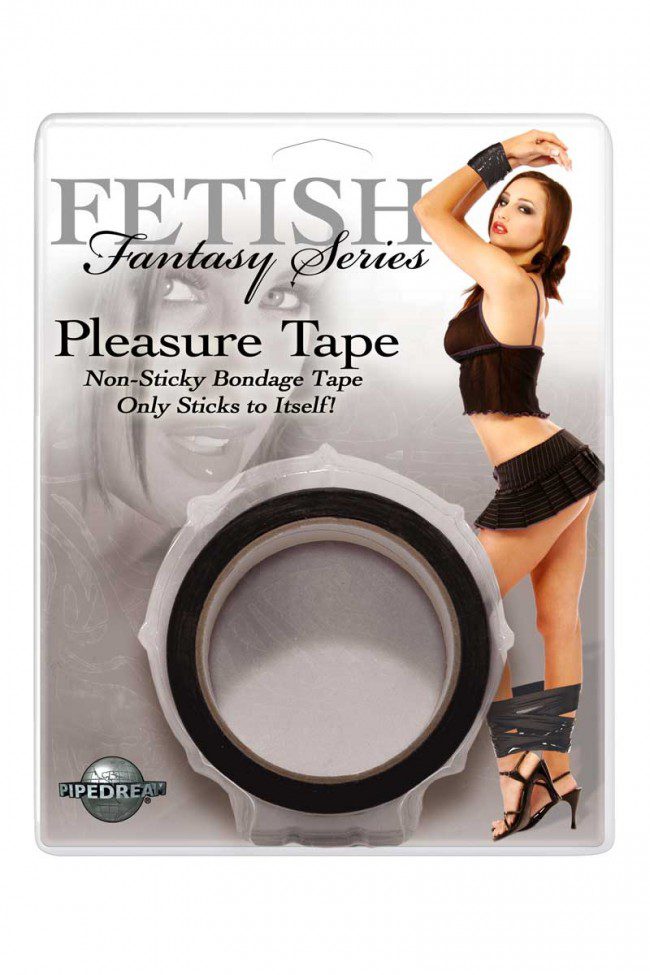 This is a 9-metre roll of tape which is just 2" wide, so it's perfect for strapping up wrists, legs, ankles or for tying up against furniture. The joy of this tape is that it won't leave a sticky residue on furniture or be painful when being removed and it's a bargain too at just £7.99.
What does Sexy Time Toy Zone think?
We hope you enjoyed our beginners guide to bondage tape and are eager to give it a try yourselves. Aside from the fact that we are head over heels for Bondage Tape, we think everyone should have at least one roll in the bedside drawer. It has so many functions aside from a restraint, because you can use it to cover the eyes, ears or mouth (remembering to leave the nose free for an air of course). This creates a sensory deprivation that will only heighten other sensations. Be adventurous when using Bondage Tape as it's so versatile you can use it in all kinds of scene setting and role plays, the list is endless really.
If you've enjoyed this or are new to the adult toy industry, why not check out some of our other informative content; such as our beginners guide to sex toys, how to choose your vibrator or even what weird sex toys can you buy.