Unfortunately there is no promotional scheme available through Eden Fantasys to assist us in advertising the site. As such we have provided you with an alternative called Lovehoney, which is an impressive adult site offering an incredible range to suit all.
Sexy Time Toy Zone are back with another fabulous site review, which promises to fulfil our every desire. Eden Fantasys was created in 2002, with an aim to make shopping for sex toys easier and safer for men and women.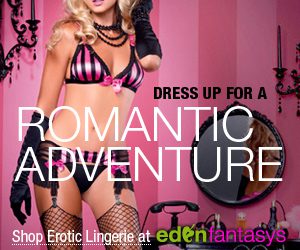 They are an American company but don't worry too much if you're not based there, because they ship to other countries including the United Kingdom.
What will you find at Eden Fantasys?
Huge selection of sex toys,

Lingerie,

Sex Essentials,

Sale,

Information and reviews,

Free shipping,

Privacy guarantee,

A wide range of payment methods available.
So, let's see whether Eden Fantasys can live up to its name and provide you, our lovely readers with your ultimate fantasy products?
The Range of Sex Toys at Eden Fantasys
This bright and colourful site is not only attractive, but incredibly responsive. There's nothing more annoying than a slow website, especially when you're trying to peruse through their newest offerings.
On the main page you will see the various sections, with sex toys being separated into men, women and couples. This can only make it easier for us to find the product we want, because Eden Fantasys has a vast range on offer. You can individually search types and brands of toys in each section, which again is great idea.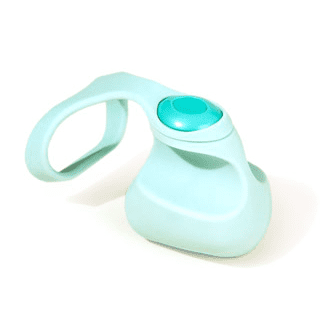 There is a lot of information on the main page regarding sex toys, video guides and how to guides amongst other things. It's important to ensure that you are informed when purchasing and these guides are the ideal way to keep you up to date on cleaning tips and choosing the right toy for you. They can be a little distracting, but we know Eden Fantasys have the best toy range so you won't stay away for long.
Vibes and Masturbators
We are all about the hidden gems and the first toy we came across that we haven't seen before was the Fin, the vibrator for couples. This vibrator is actually worn between the fingers, a similar approach to the JimmyJane touch but very different design wise. The Fin turns your whole hand into one giant vibrator, with the option of guiding the sensations from different parts of your hands or fingers. It is multi-speed and rechargeable, making it a brilliant addition to any weekend away and to top it all off it is waterproof too. In comparison to other vibrators it's a little steeper at $74.95, but that's purely due to its innovative design. We think it is something you will use time and again, and never ever get bored of, so it's definitely worth the cost.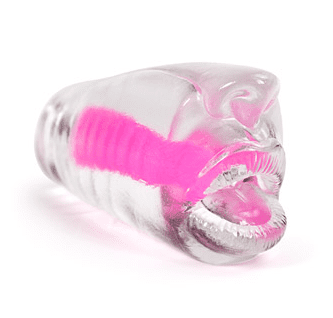 For the guys out there check out the Crystal Mouth Masturbator, this sex toy not only looks the part but plays the part too. Made from hypoallergenic material and made to look like a mouth, this masturbator is stretchy to accommodate different sizes. With its quirky look and incredible low price of $8.99 this is definitely a treat you can't afford to miss out on. But if you're wanting your man to give you a little extra, then they have a great range of penis extensions.
Lingerie Section
Within the lingerie section you have a vast amount of information, which will help you decide on the best styles and materials to suit your needs. There are plenty of offers on Eden Fantasys and they tend to be towards the top of the page making it easier to find.
What really struck us was the variety of sizes available, including the voluptuous queen sized. Any company that caters to women of all sizes, is always a winner in our eyes. You'll find the usual range of bra sets, hosiery, baby dolls and chemises, plus costumes and fetish wear.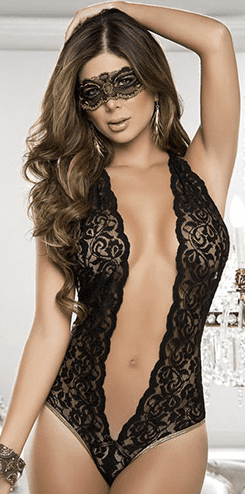 There could have been a wider section in the men's lingerie, but other than that there was a lot of items that made it onto our wish lists. In particular we loved the 50 shades inspired Gold Trim Teddy bodice with matching mask for just $17.49. It's the perfect addition to your wardrobe and can be used for a seductive night in.
Sex Essentials
As with many other sites you'll find the sex essentials cover the usual sexual health and toy maintenance products. One tip we would mention is to ensure that your toys are carefully stored. Eden Fantasys offer a few varieties to keep your prized possession safe and away from prying eyes. If you're looking to spice things in the bedroom, then this is also the section you'll head to; with plenty of pills and potions to fan those flames.
Sale Section
We love a bargain and the team at Eden Fantasys have not let us down, with sale items at 40%, 50% and even 80% off the original pricing. If you're generally browsing and you're not sure what you want, then this is the perfect place to start. You'll certainly get more bang for your buck!
Info Section
We've already mentioned that Eden Fantasys provides guides and reviews on most areas. It can be a little overwhelming when you see so much information. Our advice is should any questions or issues arise, then keep them in mind and head to the info section to see if it can be resolved.
Product reviews are the ideal way to ensure that you're not wasting your money, because many of us have bought toys or lingerie and they've not turned out to be as expected.
Packaging, Delivery and Refunds
Products are shipped with your privacy guaranteed, as the boxes or envelopes will have the return address of Web Merchants; so no one needs to know.
Shipping is free on orders of $45 or more in the United States, which we reckon is easily reachable with the great range of products found here. International shipping starts from $10.95, but we always recommend checking the price before you purchase.
Returns are accepted within 30 days, if there is a fault; if so these items will be replaced or refunded where appropriate. Please ensure you check all the terms before completing your sale.
Payment Methods
Eden Fantasys now accept a wider range of payment options which includes Bitcoin payments, as well as credit or debit cards, PayPal and Google Wallet. Truly a digital company and embracing the power of the internet for all things.
Customer Support
There is a great support team available to contact for issues regarding products, returns and payments. You can access a representative via email, post, telephone or fax; they also offer an extensive FAQ section will may deal with your query.
Social Media
Who doesn't love to keep up on the latest offers and naughty products via social media? Eden Fantasys have a Twitter, Facebook and Google+ page; so make sure you're in the know and like or follow them. There you will find all the latest sale information and Eden Fantasy promo code for exclusive discounts.
What do we think?
There was a lot of information and reviews on each of the sites pages, which can get a little distracting. But once we ploughed through to their toys and clothing range, we found plenty to choose from. Eden Fantasys have put a lot of effort into building a well versed and educational site, which is certainly something to applaud. In fact they narrowly missed out on our list of top 5 sex toy sites.
Promotions and offers subject to change, please ensure you check out the terms and conditions before you order.