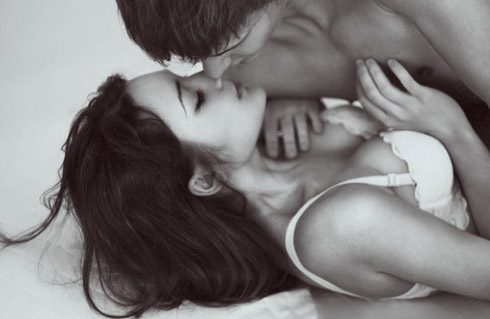 Here at Sexy Time Toy Zone we like to think that we bring you the best information, whatever form it may take. So, our latest foray is in the wonderful world of penis extensions. You may be wondering why anyone would want to buy a penis extension sleeve, extender or sheath. What uses does it have aside from making a small penis larger and a larger penis, well too large? It isn't about that really, because penis extensions are actually about sensations for both parties. By adding a penis extender, you are not just increasing length or girth; you are adding texture and giving sensations that you or your partner may never have felt before. It also happens to be a safe alternative to penis enlargement surgery or medication.
We have had a look around at some of the extensions available and have found some interesting ones that we thought we would share with you. Let us take a look into the ever-growing (take that as you will) area of penis extensions.
Best Penis Extension Sleeve Products
It goes without saying that there are miles of extra inches available for people to purchase. So with this in mind we've taken the opportunity test the most popular products, in order to bring you our best penis extension sleeve. Our top 5 consists of various shapes, sizes and pleasurable features.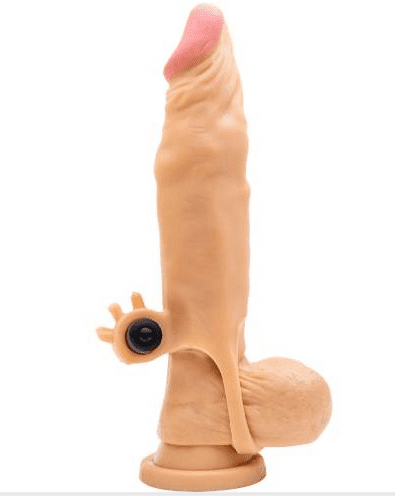 Carvaka Vibrating Penis Extender
Our first penis extender is the Vibrating Penis Sleeve from Carvaka Sex Toys. This extension will add an extra 2" to your length, as well as thicken your shaft with the sleeve. It has a ball strap to ensure the sleeve doesn't slip and a bullet holder that is covered in nodules. So whether the bullet is switched on or off, you and your partner will get those extra sensations all around. Add in the fact its £10.99 and we're sure you'll agree it's the perfect start to anyone's collection.
X-Tender Penis Sheath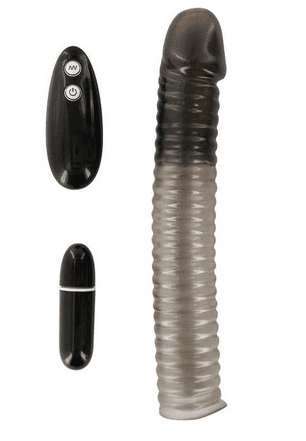 This next item is sure to hit all the spots, because the Seven Creations X-Tender Transparent from the team at Lovehoney is a wireless beauty. This extension sleeve has a vibrating tip, which is controlled wirelessly by the remote; this is a great way to switch the power. Basically you wear the extender yourself, but then give the remote to your partner to control. Plus at £31.95 this penis extender is a pretty exciting prospect.
Customizable Penis Extender
We head over to Lovehoney next and the dark and tasty Doc Johnson Customizable Real Feel 9" Extender Kit.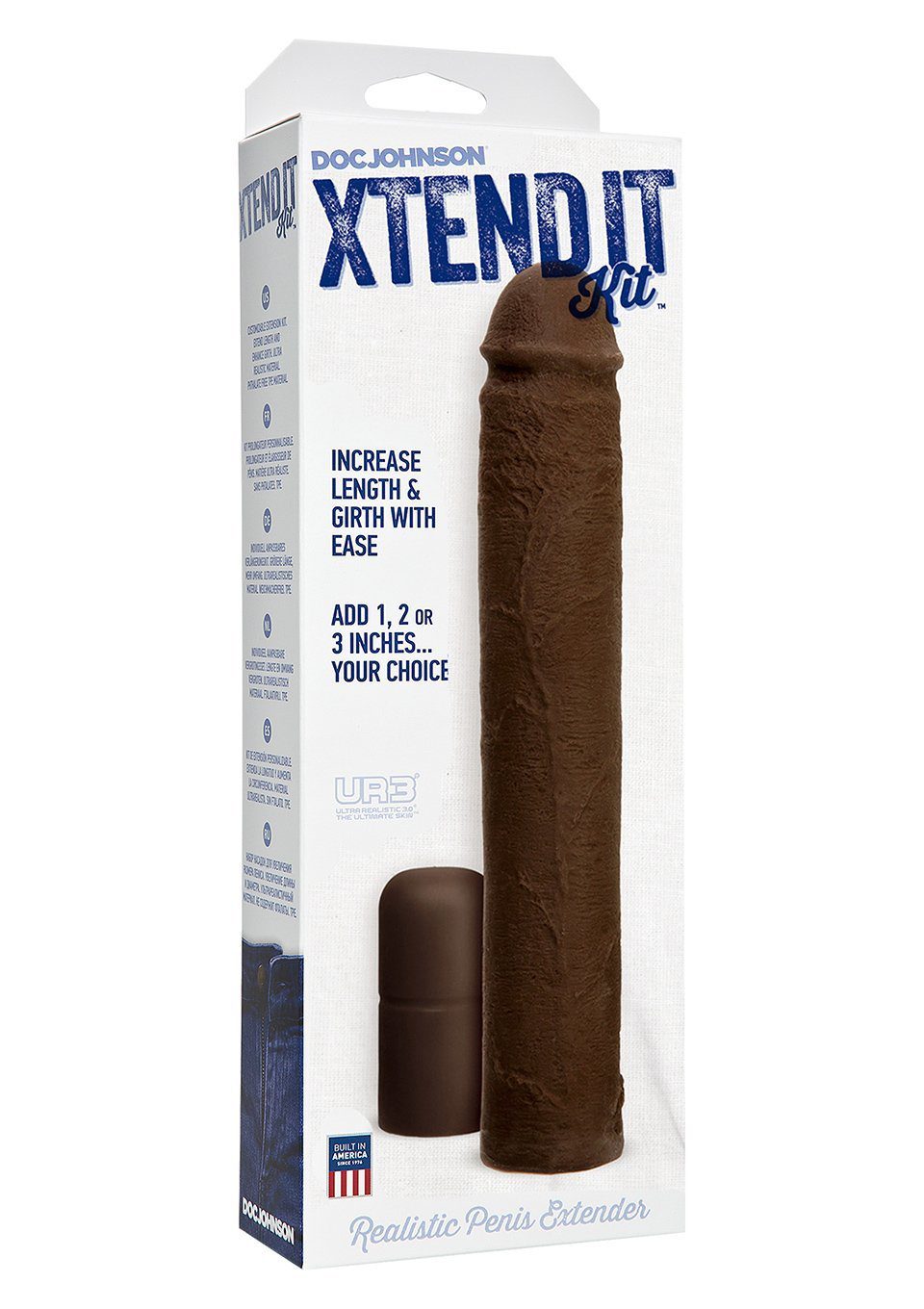 Now that is a mouthful as is the sex toy too, but at a promising 9" it was always going to be. This kit comes with an extender that provides an extra inch of length, there's also a plug that gives another 2.5"; making an extra 3.5" in total. On top of that, it is made from Doc Johnsons Ultraskyn material and is double veined for extra sensations. We know that you will love this when you get it in your hands and well, other places too and it's only £22.99.
Vibrating Penis Enlargement Sleeve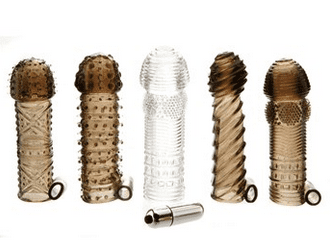 Heading over to the team at Adam and Eve, with their self-made A&E Vibrating Penis Sleeve Kit for £23.03. This kit contains 5 penis sleeves and one bullet vibe. Four out of the five sleeves have a strap for the bullet vibe, meaning the sensations received from the different nodules on these sleeves will be heightened. With swirls, bumps, nodules crosses and waves, these sleeves will make every sex move that bit more exciting. So make sure you have added it to your collection. These are one of our favourite sex toys for men.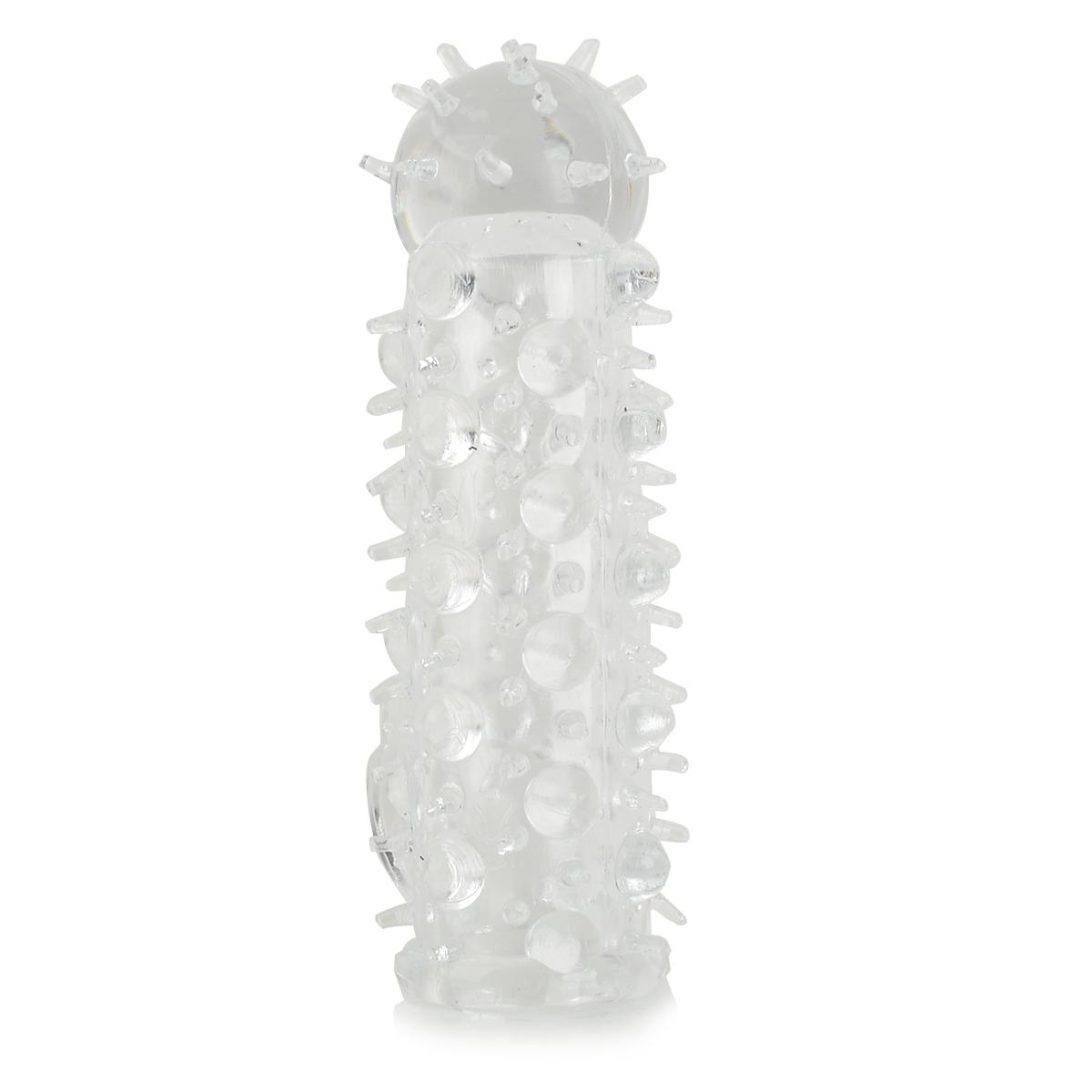 Stimulation Penis Enlarger
Last but not least we leave you with the Thrilling Enlarger Sleeve with Dolphin Stimulation, from the team at Intimate Gadgets. This extension is covered in dots, nodules and ripples helping to maximise pleasure on both sides of the sleeve. It isn't designed for length, it's more about sensations; but at just $5.80 it is an absolute bargain and great if you want to try new sleeves during sex.
We have only hit the 'tip' of the iceberg with our personal choices and we know that penis extensions seem to get a bit of a bad rep; but we don't see why. Adding the penis sleeve or extender is only going to heighten those sensations further and heightened sensations mean better orgasms.  The sleeves, cages and extenders can be used to delay orgasm as well, so there really are endless reasons for using them and very little that we have found against it.
If you are new to adult toys and have enjoyed our offerings for your next penis extension sleeve, why not have a read of our beginners guide to sex toys; or choose one of our preferred starter kits.
Prices, promotions and offers subject to change, please ensure you check out the terms and conditions before you order.