We've all heard the saying "early to bed, early to rise…" haven't we? Well for our new site review, the term Early to Bed has a whole new meaning. The team at Sexy Time Toy Zone have snuggled down into our blankets and gotten comfy. So come and join us to hear all the dirty secrets that Early to Bed has to divulge.
Early to Bed is owned by Searah Deysach and you can contact her directly through the email, quoted on the site. She opened her first store in 2001 in Chicago, with an aim to provide a safe, welcoming environment for shoppers of all gender and orientation; to shop for their pleasures in peace. The time and dedication that the owner put into setting up Early to Bed, shows in the sites wide and exciting range of products.
What can you expect from Early to Bed?
Sex essentials,
Clothes and lingerie,
Movies and books,
Over 55's range,
Storage, Vegan, Gender Expression,
Discreet, low cost and free shipping options,
Social media presence.
With all that in mind let's delve a little deeper and get to the nitty gritty of what makes Early to Bed tick. When you first land on the homepage, you are greeted with a bright and airy feel to the site.  We're sure you'll be surprised by the variety of items in their range, with everything from vibrators, anal, harnesses, BDSM and starter kits; to the usual lubes and condoms. The main navigation banner across the page allows you to search the range of products, by filtering your preferences.
Vibrator and Dildo Section
We decided to go through section by section to see what is on offer and we weren't disappointed. With 168 vibrating toys on offer at Early to Bed, you may be wondering where to begin.
You can sort the toys by price, name, bestselling, width, length, they even have some of our preferred penis extensions for if you just want that little extra length from your man.. So, if you have an idea of what you are looking for, this search option will help you find it. However, if you still don't have a clue what you want, then follow their blog which offers tips such as 'how to pick your first vibrator' and is linked in the page description.
If you've tried the Early to Bed filter system and read their blog, but still don't know which vibe to buy. Let us at STTZ help out, with our hot picks.
Kawaii Macaroon Vibrator
For all you beginners out there, who maybe too embarrassed to have a more phallic looking vibrator hanging around your room. You should try the Kawaii Macaroon Vibe, which is a super cute mini vibe that is shaped like a delicious macaroon treat. This cute mini vibe could be left out on the floor or sideboard and no one visiting would be any the wiser, as to what its true nature really is. When it comes to your alone time, this sweet treat will certainly hit the spot. Made of body safe silicone, it is also waterproof for that special bath time treat. There are 3 speeds and 3 varying pulse patterns, all handily controlled by the push of a single button and it's only $40.
Tokidoki Unicorn Wand Massager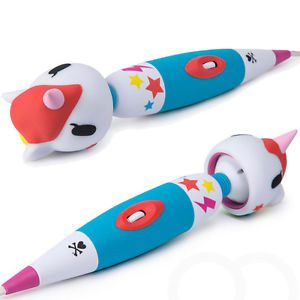 For all you fashion and trend followers we have an awesome pick for you in the Tokidoki Unicorn Wand Massager, yes you heard us a unicorn vibrator. Your prayers have been answered unicorn lovers. This insanely cute toy will have you riding high in no time, with an interchangeable cap taking you from unicorn horny to standard massage wand; you're pretty much getting two toys for the price of one. The unicorn head cap has a rippled effect from the colourful mane at the back and more direct pulse sensations from the unicorn horn at the front.
But if you prefer things a little easier, then just switch to the basic head which is already on the wand. You can change speeds with the easy to use the scroll wheel on the shaft of the wand, making your unicorn time all that easier to direct. It's a little more expensive at $105.00, but unicorn fans are going to love it.
There are so many vibrating toys to choose from, but that isn't all that is available on Early to Bed. We also checked out the dildo section and loved the variety we were faced with; which included some strange sex toys. There are over 107 dildo related items here and once again you can filter them as required, to make your search easier. You can even check out Early to Beds blog named Dildos 101, to get the lowdown on what they suggest.
Discreet Dildos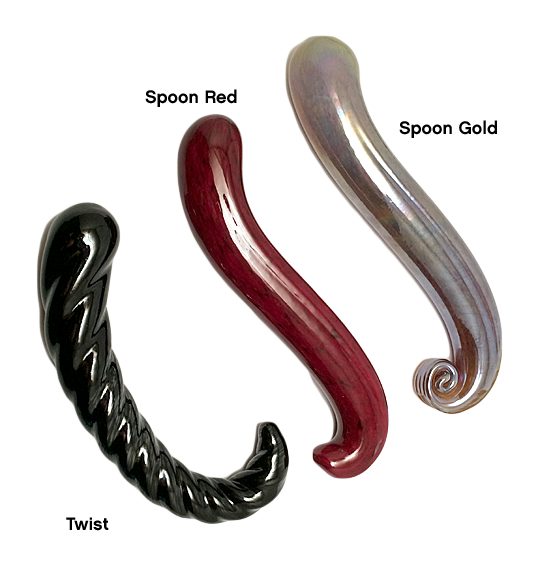 We're big fans of sex toys that can be left out in full view and your guests don't know what they are. Check out the F*cking Sculptures Glass Dildo's, which are truly gorgeous items that should definitely be proudly displayed. With three colour and design options available, why not take all three and make yourself a little display. They are hand sculpted into their designs and made entirely from glass, meaning they can be warmed or cooled; in order to suit your personal desires. You can choose the Spoon which is available in gold and red, or the sexy looking Twist in black. They may be $120, but isn't beauty and pleasure worth the money?
Their range is in fact so good, some even feature in our top 10 Vibrators and dildos section.
A Bit of BDSM and Anal 
With so much on offer in the vibrator section, you'd be forgiven if you have forgotten about everything else available. But we'd strongly recommend that you don't forget to check out the anal toys, penis toys, harnesses and BDSM range. Again each category is broken down into bite sized pieces and there is plenty of assistance; especially if you're new to domineering.
If you prefer inflicting consensual harm to your partner, but you don't want to hurt any animals. Then check out the Early to Bed Vegan and eco-friendly range, which offers everything from essentials, to whips and bondage tape.
Sex Essentials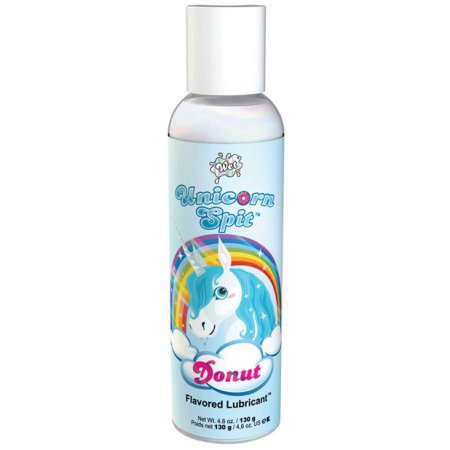 With lubes, oils and condoms galore your every need is catered to at Early to Bed. You will even find gloves and batteries, but we felt we had to give the following item a specific mention; due to its sheer brilliance.
If you are looking at purchasing the Tokidoki Unicorn Wand Massager then you will need this; Unicorn Spit Lube. Yes, you can now immerse yourself in the full Unicorn sensation, because it's only $14.00. This lube is donut flavoured and is ideal for oral pleasures, but they do advise not to use for internal lubrication; as it contains glycerine.
Additional Extras
In the wearables range, you will find items for men and women. This covers everything from strap-on's, stockings, underwear and pasties, to lingerie and edibles.
You will also be head over heels with what is available in the movies and books range too. Old DVD favourites like Debbie Does Dallas, sits alongside movies such as The Devil in Miss Jones and Afrodite Superstar. The DVD's vary from $8 to $42, so whatever your price range there is a match for you here. If you prefer the imagination to visual stimulation, then the books section will surely keep you occupied for a while. With everything from instruction books to fantasy novels, their selection covers a wide range of topics.
You would think that would be enough for any sex toy site, but Early to Bed covers all the bases. If you click on the more tab of the navigation bar, you will find categories covering Gender Expression and Toy Storage. There's even a section for the over 55's, dedicated to toys that will aid the sexual endeavours of anyone 55 or over.
Delivery and Privacy
Your privacy is guaranteed with Early to Bed, because parcels will arrive in non-descript boxes. The return address shows as ETB/FTME, which ensures no one will see what is in your package until you decide to share it.
Free shipping is offered on orders of $125 or more, but this is only for American deliveries. Make sure you check out the other international shipping costs, to find out how much you will be charged. Early to Bed do have a returns policy for any item that is defective or damaged upon receipt. Please thoroughly check the returns policy and if in doubt contact them directly with your issue.
Social Media
Early to Bed have a number of social media pages including Facebook, Twitter, Pinterest, YouTube, and even Yelp. You'll discover the latest product releases, offers and tips from their experts.
What do we think?
We're pretty tired, so we're heading to bed early with quite a few of these naughty products on our minds. We love the variety at Early to Bed and there is so much more to be discovered on their tips and blogs. We are look forward to our next visit to the site and hope to see you there too. As always if you purchase from Early to Bed, we would love to hear about it on our social media pages.
Promotions and offers subject to change, please ensure you check out the terms and conditions before you order.